Tweet: Ocean heat near Peru in March 2017 mirrors 1998 El Niño



by Abraham Levy on Twitter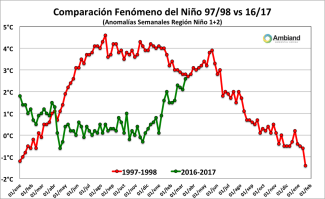 Original Tweet:
Estamos, en magnitud del calentamiento del mar (Data NOAA-CPC), la última semana, al nivel del Niño de 1998. Ello explica impactos
---
Translation:
We are — in terms of the magnitude of ocean warming (Data NOAA-CPC) during this last week — at the level reached during the El Niño event of 1998. This explains the impacts.
***
NOTE: Sea surface temperature area averages are computed from 1971-2000 SST base period means.