Climate science at a glance
Record breaking high temperatures are a classic signal of a warming climate.
Four out of five record-hot days globally are now attributed to climate change.[1]
In a stable climate, the ratio of record-hot to record-cold days is approximately even, but in our warming climate, record high temperatures have begun to outpace record lows.
The increasing frequency and intensity of heat waves is among the most obvious and well documented effects of climate change, according to the National Academy of Sciences.
Heat waves have become generally more frequent across the US in recent decades.[2] There has also been a dramatic increase in nighttime temperatures in the US, reducing the number of critically important relief windows during heat waves.[3]
The fingerprint of global warming has been firmly identified in the increasing intensity, duration and frequency of extreme heat events globally.[2][4][5]
Exposure to dangerously high temperatures increases with global climate change.[4] Heat waves exacerbate the risks associated with heat exposure, and urban residents are particularly vulnerable to threats of heat waves due to the urban heat island effect.[4]
In the United States, exposure to extreme heat is already a significant public health problem and a leading cause of weather-related mortality.[6]
---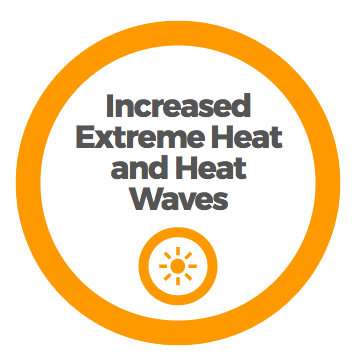 Click the signal to the left to visit the extended
signal page write-up, which has more information
on the links between climate change and
increased extreme heat and heat waves.