1 dead as Harvey spins deeper into Texas; full scope of damage is unknown
Rockport, TX
Corpus Christi, TX
Port Aransas, TX
,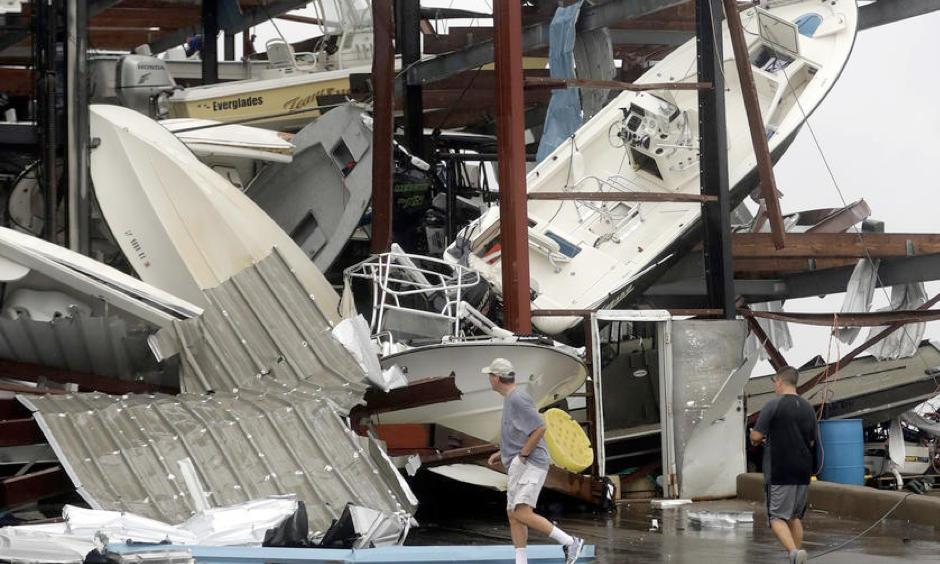 Harvey spun deeper into Texas and unloaded extraordinary amounts of rain Saturday after the once-fearsome hurricane crashed into vulnerable homes and businesses along the coastline in a blow that killed at least one person and injured up to 14.
...
In the island community of Port Aransas, population 3,800, officials were unable to fully survey the town because of "massive" damage.
...
Some of the worst damage appeared to be in Rockport, a coastal city of about 10,000 that was directly in the storm's path. The mayor said his community took a blow "right on the nose" that left "widespread devastation," including homes, businesses and schools that were heavily damaged. Some structures were destroyed.
Rockport's roads were a mess of toppled power poles. A trailer blocked much of one major intersection. Wood framing from ripped-apart houses was strewn along Route 35 on the town's southern end.
Harvey's relentless wind tore the metal sides off the high school gym and twisted the steel door frame of its auditorium.
...
As many as 14 people suffered minor injuries, including slips and falls, scrapes and a broken leg, Aransas County Judge C.H. "Burt" Mills Jr. said.
The lone fatality confirmed so far was a person caught in a fire at home during the storm, Mills said. He did not identify the victim.
About 300,000 customers were without power statewide. Gov. Greg Abbott said it would probably be several days before electricity is restored.
Meanwhile, the storm slowed to a crawl of only 2 mph (3 kph). Rainfall totals varied across the region, with Corpus Christi and Galveston receiving around 3 inches, Houston 7 and Aransas 10. Tiny Austwell got 15 inches.
...
Harvey weakened to a tropical storm by midday Saturday. At 4 p.m., its maximum sustained winds had fallen to about 65 mph (104 kph). The storm was centered about 60 miles (97 kilometers) southeast of San Antonio, the National Hurricane Center said.
...
Rain fell on Houston at nearly 3 inches (76.2 millimeters) an hour, leaving some streets and underpasses underwater. The many drainage channels known as bayous that carry excess water to the Gulf were flowing freely and rising.