2022 generated most March tornadoes on record in U.S.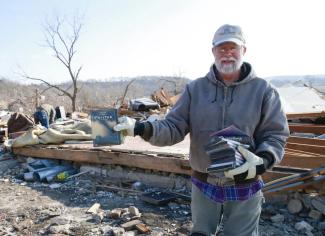 Climate Signals summary: There's increasing evidence linking global warming to changes in the severe weather that gives rise to tornadoes. Climate change may also be changing the timing of tornadoes. Tornadoes are starting about a week earlier in the year in the tornado alley region from Nebraska to Texas, and summer tornadoes are declining nationwide.
---
Article excerpt: With at least 210 confirmed tornadoes, 2022 produced the most March twisters on record. It surpasses a previous record of 192 in March 2017. Numbers may yet climb as surveys are completed.
...
How much the episodes of severe weather in March were influenced by climate change is presently unknown. Other than the devastating long-track EF-4 in Iowa on March 5, the tornado events during the month were generally in their climatologically favored zones or where they're generally expected.
There is also often a significant ramp-up heading into April when it comes to severe weather. April through June are peak season. Damaging tornado events in the South during early spring have been common throughout history.
But the elevated March tornado activity this year may be a sign of what's to come, especially across the South.
Studies analyzing tornado trends have found spring numbers increasing in the South while decreasing in the Plains. At the same time, the South is becoming more vulnerable to twisters because of population and development trends. There is an increase in sprawl as well as vulnerable housing (mobile and manufactured homes). [Walker Ashley, an atmospheric scientist and disaster geographer at Northern Illinois University] refers to this as an "expanding bull's eye effect."
If early season tornado activity increases in the South as vulnerability grows due to demographic trends, disaster can more readily happen.
---
You can read the rest of this article here.