3 Things To Know About Tropical Depression Nine
by
Weather Underground via The Weather Channel
,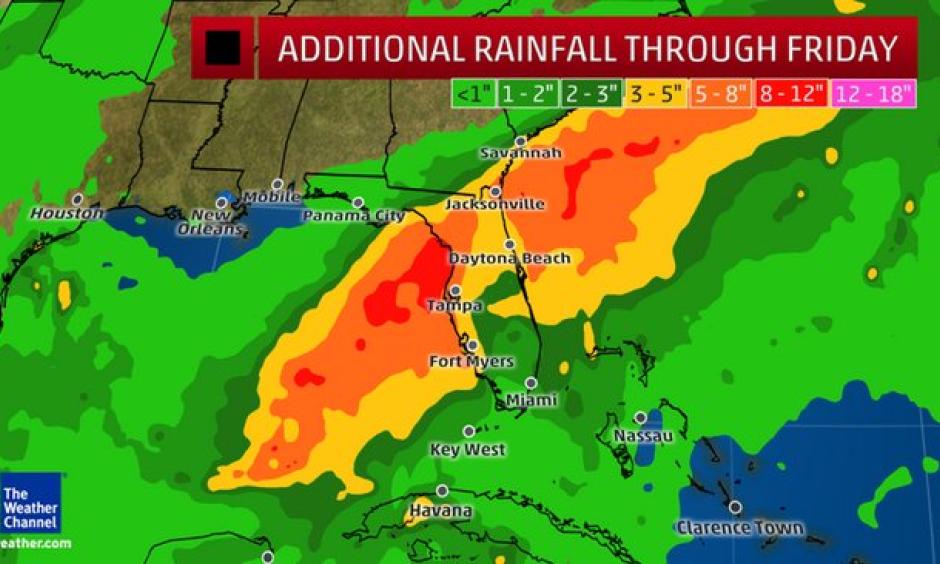 1.) This System Had Impacts Before it Became a Tropical Depression
This system has dumped locally heavy from the Leeward Islands to Hispaniola, the Bahamas and Cuba since last week.
In the Dominican Republic, the heavy rain displaced more than 1,700 people late last week, according to the Dominican Today.
Parts of eastern Cuba saw 3-5 inches of rain from the system on Saturday.
2.) Rain Will Likely Be the Greatest Impact in Florida
A moist southerly wind flow to the east of Tropical Depression Nine will keep Florida wet the next several days.
By late this week, the actual center of the system is forecast to move northeastward toward the Florida Gulf Coast, resulting in more rainfall.
Some flooding is expected across parts of the state throughout the week, since the rainfall will be heavy at times.
Any other impacts, such as wind and water rise along the coast, will be dependent on the intensity of the system. At the moment, however, heavy rain seems to be the biggest threat.
For more details, see our full forecast article at the link below.
3.) Why Did This System Take So Long to Become a Tropical Cyclone?
Since last week, the former Invest 99-L had been battling the two nemeses of tropical cyclones, dry air and wind shear.
Wind shear and dry air can slow or prevent the development of tropical systems.
Most recently, wind shear has been the biggest inhibitor to the development of this system