3 Things We Know About Invest 99-L and 3 Things We Don't Know Yet
,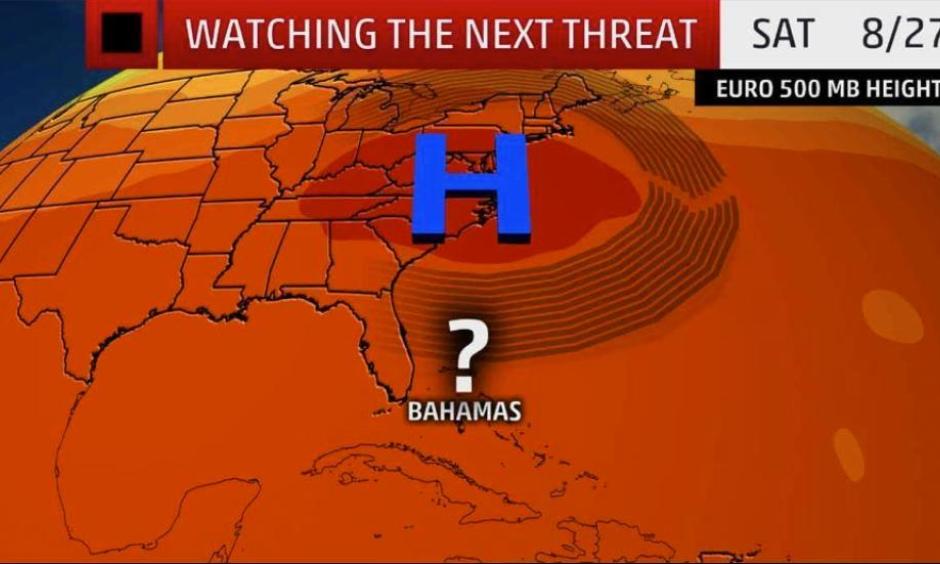 We're watching an area of storminess that has moved into the Caribbean and southwest Atlantic, and this one could bring impacts closer to home.
But Invest 99-L is still in development, and there are a few questions we still have, in addition to the things we already know about this system.
What We Know So Far
1. Invest 99-L Will Be A Rainmaker in the Caribbean, Bahamas and Florida
The broad area of low pressure associated with a tropical wave will bring locally heavy rain to Hispaniola throughout Thursday. Mudslides and flash flooding are possible.
Some heavy rain will also march up towards the Turks and Caicos along with the Bahamas through Friday.
By this weekend, the moisture with this system will spread into South Florida. This will likely be the case no matter whether Invest 99-L has developed into a named storm or not. This could result in some flooding concerns materializing, depending on how persistent the rainfall becomes.
Forecast Rainfall
2. This Disturbance Will Trek Toward the Northwest
Current computer model guidance solutions are very tightly packed initially, which improves our confidence that this system will move into the Bahamas the next couple of days and then towards South Florida or the Florida Straights by this weekend.
The forecast gets less clear after that, but parts of the Gulf Coast could be in line for impacts early next week. Anything beyond that is more suitable for the "things we don't yet know" section below.
Forecast Track Models
3. Invest 99-L Continues to Fight Wind Shear, Dry Air and May Use Atlantic Heat Content To Its Advantage
The last few days, Invest 99-L has been battling dry air over the eastern Caribbean and southwestern Atlantic. 99-L is expected to be deep in this battle on Thursday.
In addition, some wind shear will continue to be present on Thursday, and is hampering short term development.
Wind shear and dry air can slow or prevent the development of tropical systems.
This wind shear and dry air, however, may lessen this weekend when the system reaches the Bahamas, allowing it to develop.
Deeper, warmer ocean temperatures are ahead of this tropical wave. A few patches of cooler waters do exist, but the general trend will be for waters to warm throughout the next several days. Sea surface temperatures in the Bahamas range from the mid-80s to near 90. This effect alone could enhance thunderstorm activity.
Conflicting conditions that 99-L will have to face. Water Vapor Image: Orange designates dry air, which is not hospitable for tropical cyclones. Heat content image: Yellow and red are areas that tropical cyclones can pull energy from for extended periods of time. (NASA: Water Vapor Image; NOAA/AOML: TCHP)
What We Are Trying to Figure Out
1. How Strong 99-L Will Get?
There remains a large array of possible outcomes in terms of intensity. At one end of the spectrum, this disturbance could remain weak throughout its lifespan. On the other end, many favorable conditions could come together in the Bahamas, and a tropical storm or perhaps a hurricane could develop before impacting southern Florida.
Part of this variation is due to the lack of organization with this system so far. On Wednesday evening, multiple centers could be located by satellite imagery, which means models could latch on to different centers and thus show different solutions.
Scheduled Hurricane Hunter missions over the next couple of days should prove helpful.
2. When Will Florida's Hurricane Drought End?
Florida has seen numerous tropical storms in the last decade, but the state's lucky hurricane streak is up to 11 years. We don't know if this will be the system, but it is always a good time to get prepared. It only takes one.
3. Ridge of High Pressure May Steer This System Into the Gulf
Once 99-L gets closer to the Bahamas and the western Atlantic, the main steering feature will become a ridge of high pressure that is forecast to be parked over the Carolinas
The clockwise flow around the ridge of high pressure could send it into the Gulf of Mexico. This would, of course, put parts of the U.S. Gulf Coast in play for possible impacts.