5 Deaths In Houston Blamed On Harvey; Other Deaths Being Investigated
,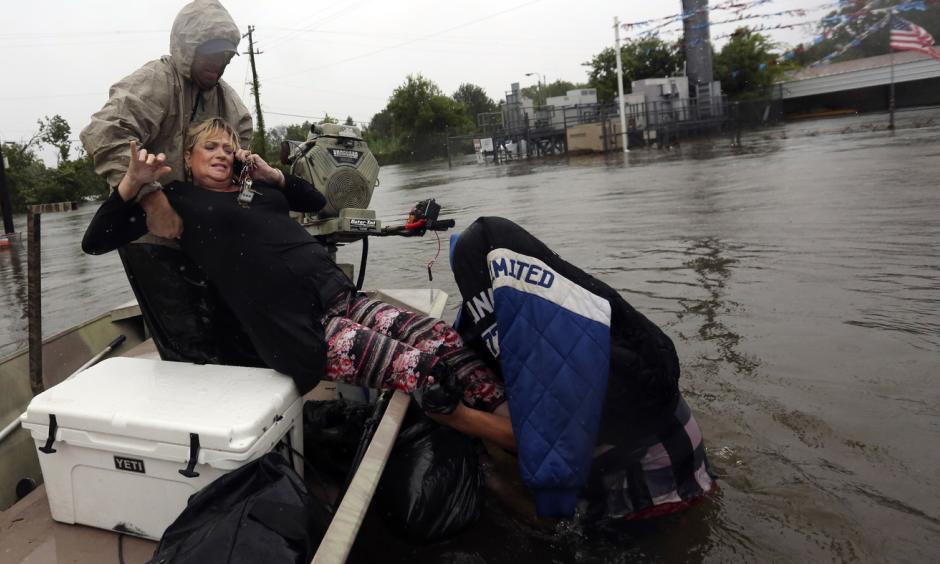 Persistent rain is "pushing the Addicks and Barker reservoirs to record heights" and forcing water over the reservoirs' spillways west of downtown Houston, reports Andrew Schneider of Houston Public Media. In an update for our Newscast Unit, Schneider adds, "The two reservoirs hold more than half a billion cubic meters of water combined. The dams that created the reservoirs are rated among the most unsafe in the country."
Northeast of downtown Houston, millions of gallons of water are coursing over the spillway of the Lake Houston Dam on the San Jacinto River — around midday Tuesday, the rate was 375,000 cubic feet per second, or "168 million gallons per minute," meteorologist Jeff Lindner of the Harris County Flood Control District says.
In the past four days, Lindner adds, Harris County has been hit by enough rainwater to run Niagara Falls for 15 days: 1 trillion gallons.
In Brazoria County, a levee breached at Columbia Lakes some 60 miles south of Houston, prompting officials to tell residents: "Get out now!"
On Tuesday afternoon, a rain gauge east of Houston reported 51.88 inches of rain since Friday. The preliminary report indicates a rainfall record for the contiguous United States, breaking one set by Tropical Storm Amelia in 1978, the National Hurricane Center said.
"That figure is going to keep climbing," said National Hurricane Center spokesman Dennis Feltgen.
Two other Texas gauges exceeded the previous record of 48 inches set by Amelia, the National Weather Service added. Hurricane Hiki, which hit Hawaii in 1950, has the U.S. record for a tropical cyclone. Fifty-two inches of rainfall were documented at the Kanalohuluhulu Ranger Station on Kauai.
...
Water has risen above the spillway at the dam at the Addicks Reservoir, where the Army Corps of Engineers began releasing water early Monday in hopes of controlling the massive amount of water. The spillway's elevation is 108 feet; the water was measured at 108.7 feet early Tuesday afternoon.
An official with the Harris County Flood Control District says it's the first time the Addicks Dam has spilled over the top, NPR's Greg Allen reports. The water will endanger more homes and add to the flooding that has crippled the area.
...
Record-setting rains in Harris County, which includes Houston and is home to some 4.6 million people, knocked several water level gauges and rain sensors out of service, the Harris County Flood Control District said.
...
More than three days after Harvey made landfall as a Category 4 hurricane, the storm's center is back out over the Gulf of Mexico, south of Galveston. The storm is moving east-northeast at near 3 mph.