5 people still missing in Montecito, but that number might change 'significantly,' officials say



 United States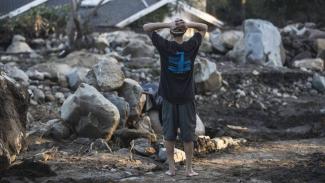 Five people are missing after the Montecito mudslides as of Friday morning, according to an incident update from responding agencies.
Thursday evening, officials said as many as 43 people were reported missing. The number will continue to "fluctuate significantly" as the Sheriff's Office investigates each report.
"Many reports reach a rapid and successful conclusion, other(s) require additional investigation," the report said.
The number of fatalities remains at 17, with 28 people injured.
Highway 101 is expected to be closed until midday Monday, at least, but one Santa Barbara company is offering ferry rides around the closure.
Mandatory evacuations are still in place as crews continue search and rescue areas.