Across the Parched Prairie, Fires Scorch 2,300 Square Miles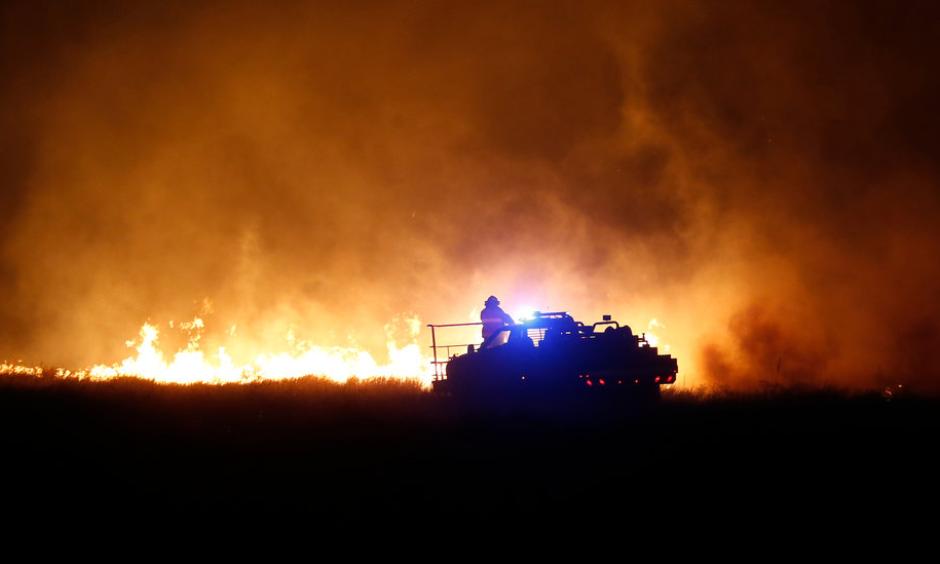 Wildfires raging across four states, fanned by winds and fueled by adrought-starved prairie, have killed at least six people and burned more than 2,300 square miles.
...
Kansas officials said that in addition to the homes and buildings destroyed, the fires had killed an unknown number of livestock in several counties.
Many animals maimed by the fire had to be killed. Larry Konrade of Ashland, Kan., told The Wichita Beacon that he had killed at least 40 cows, "and in a lot of places, there weren't even very many left alive to put down."
"All in all, I'd guess I seen between 300 and 400 dead cattle," said Mr. Konrade, who spent the day helping a rancher. "It was just a matter of putting animals out of their misery, doing them a favor. They were going to die anyway."
The extent of the damage in some areas was not known, The Hutchinson News in Kansas reported, because officials have been unable to survey the area.
In Kansas, at least nine helicopters have been put into service to fight the fires.
...
Officials in the states affected by the wildfires have not released estimates of the economic losses caused by damaged or destroyed homes, businesses and livestock — or the expense of firefighters' efforts to put out the flames. But it is expected that those costs will run well into the millions of dollars.
During last year's massive wildfire along the Kansas-Oklahoma border, firefighting costs reached $1.5 million in Barber County, Kan., which was hardest hit. The county's emergency management chief, Jerry McNamar, told The A.P. that the economic losses included 750 to 800 cattle that died, along with at least 2,700 miles of fence, worth $27 million, that was destroyed.