Analysis | Texas flood disaster: Harvey has unloaded 9 trillion gallons of water
,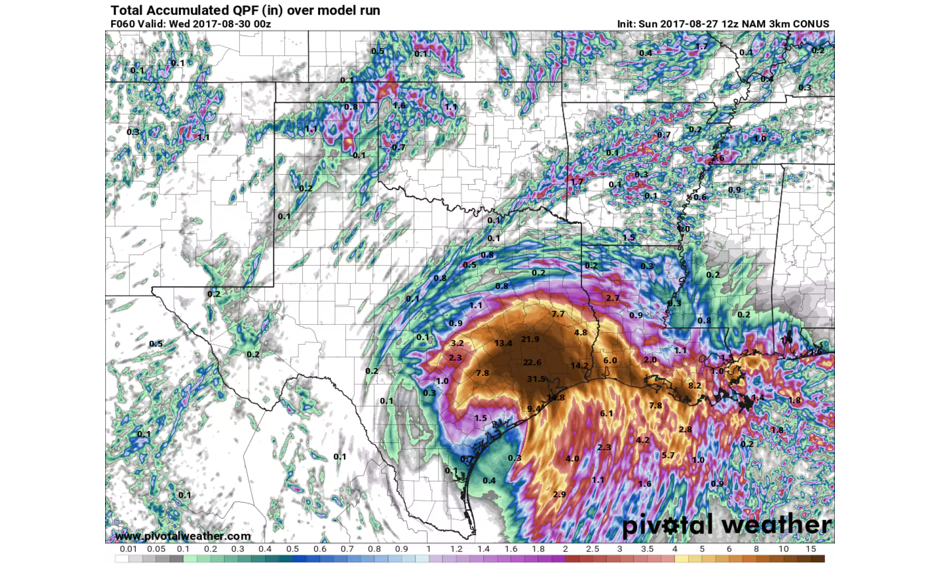 ...
The total rainfall from the storm is likely to tally up to a widespread 15 to 30 inches, with a few localized spots picking up 50 inches or more. Many textbooks have the 60-inch mark as a once-in-a-million-year recurrence interval, meaning that if any spots had that amount of rainfall, they would essentially be dealing with a once-in-a-million-year event.
...
Regardless of whether we reach that 60-inch benchmark, "it's fair to say it will produce more rain than we have ever seen before in the U.S. from a tropical system and over the fourth-largest city in the country," said Eric Fisher, chief meteorologist at WBZ-TV in Boston. "Looking at those two factors, it will likely be an unprecedented flooding disaster affecting a massive number of people. It's hard, if not impossible, to compare this to any other storm. It may stand alone when all is said and done in terms of rainfall."
...
So far, just the rain that has already fallen across the greater Houston area and Southeast Texas tallies to 9 trillion gallons. That's only what has already come down, and keep in mind that 5 trillion to 10 trillion additional gallons could fall before things wrap up midweek.'
...
But here's the kicker: Just how unprecedented is this? Well, remember the flooding that New Orleans experienced with Hurricane Katrina? Most places saw about 10 to 20 feet of water thanks to levee failure, inundating about 80 percent of the city. Now, if we took the amount of rainfall that Texas has seen and spread it over the city limits of New Orleans, it would tower to 128 feet in height — roughly reaching as high as a 12-story office building.
Sometimes, there simply aren't words. This is entirely uncharted territory. For years, many had watched movies like "The Day After Tomorrow" and thought, "Someday …"
Unfortunately, that day is today. Welcome to the future of weather. Stay safe.