Arizona Forest Fire Marks Start of Southwest's Wildfire Season



 United States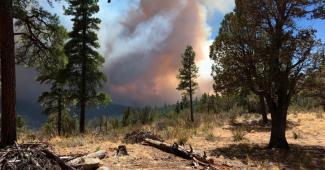 A fast-spreading wildfire moving through central Arizona—consuming 11,000 acres of land and prompting the evacuation of more than 1,000 people by Tuesday morning—marks the start of what experts say will be a particularly busy fire season across the West.
The Tinder fire is the first large-scale wildfire of the year in the West and has been burning in the Coconino National Forest since April 27. Fire officials warned that dry conditions will lead to more blazes in the coming months.
The Arizona fire, whose cause isn't yet known, roared out of control Sunday, when wind gusts of 40 to 45 miles an hour spread the flames, said Rico Smith, a federal wildfire spokesman.
...
The fire is burning through dense stands of Ponderosa forest and hadn't been contained at all by Tuesday morning. Federal fire officials warned of a danger of "spotting"—the dispersal of fire far beyond the main line because of flying embers. Windblown embers helped fuel the deadly Tubbs wildlife in Sonoma County, Calif., in October that killed at least 22 people and destroyed more than 2,800 homes in Santa Rosa.
The latest blaze is burning in the mountains about 40 miles south of Flagstaff, Ariz., and was most immediately threatening the small unincorporated community of Happy Jack, where many people have vacation homes, Mr. Smith said. The Coconino County Sheriff's Office has ordered evacuations for several communities threatened by the fire.
The strong winds were unusual for this early in the season, Mr. Smith said, and the fire has been exacerbated by the lack of snowpack this winter throughout the Southwest.
The Arizona snowpack is well below normal at 13% of the historical median, according to an April 1 report by the Agriculture Department. In Colorado, New Mexico, Utah and Wyoming the snowpack stood at 55.5% of its historical average as of April 27, according to water-data.com, a research arm of Summit Technologies Inc.
The snow deficits, which have hit California to a lesser extent, represent a sharp turnaround from last year when much of the Southwest was awash in precipitation.
"It is drier, it has been warmer and these winds have been unusually high for this time of the year," Mr. Smith said. For those reasons, "we are projecting a very busy and severe fire season throughout the Southwest."