Breathing 'a chore.' California wildfires threaten the health of young and old



 United States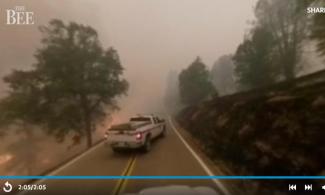 Debbie Dobrosky noticed a peculiar hue in the sky on Monday — "a very ugly yellow casting" — as she peeked outside. A large cloud of smoke had begun to cover the sun.
By Tuesday, the smoke was so heavy that "even inside my apartment I've had to use my inhaler twice this morning, which is not a normal thing," said Dobrosky, a Riverside County, Calif., resident who lives about 30 miles from a fast-growing fire in the Cleveland National Forest.
"Today I'm stuck inside, there's no going out," said Dobrosky, 67, who has chronic obstructive pulmonary disease (COPD), an inflammatory lung condition.
At least 12 large fires are burning across California, destroying hundreds of thousands of acres, sending toxic pollutants into the air and contaminating water supplies. The air quality in certain areas — particularly near the massive Mendocino Complex Fire in the northern part of the state — is among the worst officials have ever seen.
And conditions aren't expected to improve as new blazes break out and others rage uncontrolled. With temperatures at times reaching into the triple digits, unpredictable winds and desiccated brush that serves as kindling, there's no end in sight to this year's fire season.
"We are in a situation now where the wildfire season doesn't really have its normal beginning or end," said Lori Kobza, spokeswoman for the Sacramento Metropolitan Air Quality Management District.
The 629,000 acres burned this year comes after massive burns last year in Ventura, Santa Barbara, Napa and Sonoma counties, causing dozens of deaths, according to the California Department of Forestry and Fire Protection.
The Mendocino Complex Fire in Northern California quickly grew to overtake last year's Thomas Fire as the largest in California history. And Shasta County's Carr Fire generated a "fire tornado" with winds of 143 mph that ripped through the town of Redding.
Many scientists attribute the more frequent and ferocious fires in the U.S. and around the world, at least in part, to climate change.