Breathing Fire: California's Central Valley Bears the Brunt of Harmful Wildfire Smoke



 United States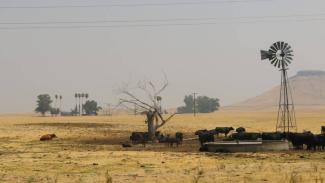 After 30 minutes of gardening, Donna Fisher's eyes are burning. One is swollen shut. Since retiring to the forested foothills of the Sierra Nevada mountain range 20 years ago, the 74-year-old has cultivated a garden large enough to feed her and her husband well into the winter. For the past two years, smoke from wildfires has reduced the time she can spend tending to her vegetables before her asthma and bronchitis are triggered.
"It's like somebody choking you, or putting a band around your chest and pulling it tight," she said. Wildfire seasons in the Western U.S. are 105 days longer than they were five decades ago, billowing smoke that contains tiny chemical particles that threaten public health.
...
Smoke from wildfires is undermining decades of gains made in reducing air pollution from exhaust pipes and power plants. The number of days each year that wildfires foul the air is increasing in parts of the West, with worse expected as temperatures continue to rise.
...
Someone exposed to smoke for a few weeks can feel health impacts long afterward, says Loretta Mickley, an atmospheric chemist at Harvard University who studies the relationship between smoke particles and health. In the longer term, exposure to the pollution is associated with earlier deaths.
"You might not automatically have a heart attack or get asthma," Mickley said. "But health effects can last for a year or more."
Breathing Fire: Californians' Health Is a Casualty of Climate-Fueled Blazes
Fisher's home is surrounded by forests that are naturally prone to burn, putting her at the front lines of smoke waves. Forty miles downhill, smoke from fires burning around California funnels into the Central Valley — a farming region where 6.5 million residents, many of them poor and working outdoors, endure some of the country's most polluted air.
Since 2010, residents of the San Joaquin Valley, one of the two valleys that comprise the Central Valley, experienced at least 40 days each year when air quality was dangerous according to EPA standards.