Builders Said Their Homes Were Out of a Flood Zone. Then Harvey Came.
,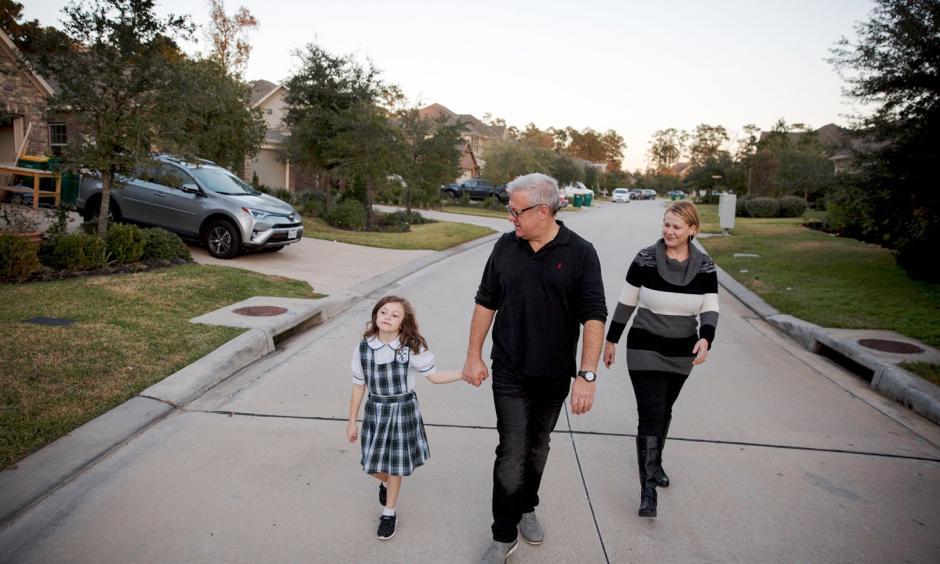 Leslie Martinez heard the floodwaters before she saw them. They rushed across the lawn, seeped around the doors and into the house. It was 2:15 a.m. on Aug. 28, three days after Hurricane Harvey made landfall. Her young daughter was asleep in her arms. Ms. Martinez's first reaction was to spread towels around the floor.
After all, Ms. Martinez recalled, the home builder had assured her that "flooding was not even a possibility" when she and her husband purchased the house in this suburban enclave north of Houston in 2011. They would never have bought here otherwise. Flood insurance, of course, was neither required nor needed.
Now, with the rains outside lashing and the water inside rising, the family and their terrified pet, a one-eyed goldendoodle named Coco, took refuge on the second floor. Later that day, rescue boats came and ferried them to safety.
The flooding forced Ms. Martinez and her husband, John Ahearn, to borrow money from their parents and accept a donation from their daughter's school. It left them feeling furious and betrayed. "I'm scared that it's going to continue happening," Ms. Martinez said, even as she wondered how they had become the victims of something they had been told had a vanishingly small chance of coming to pass in such a short time since the purchase.
What they did not know was that their home, and those of many of their flooded-out neighbors in this new section of The Woodlands, had been built on land that not long ago lay squarely, and sometimes soggily, in a flood plain.
A New York Times examination found that in the years leading up to Hurricane Harvey, with a surging local economy fueling demand for new upscale housing, the developers of The Woodlands had used a wrinkle in the federal flood-mapping system — along with many dump trucks' worth of dirt — to lift dozens of lots out of the area officially deemed prone to flooding. What they had done, in effect, was create gerrymandered maps of risk.
In Ms. Martinez's case, documents show, the land was raised less than 10 inches above the level that, under federal flood-insurance rules, would have required the family to be notified of their risk and purchase insurance. Other lots in their area were raised as little as 1.2 inches above that height.