California Bakes in Triple-Digit Autumn Heat Wave
by
ABC News via Associated Press
,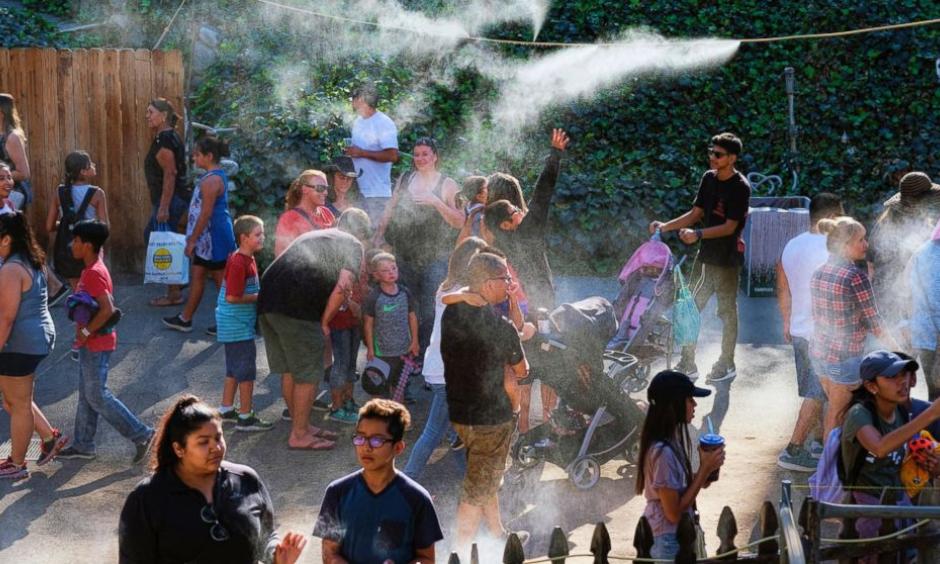 An autumn heat wave sent California temperatures soaring again Monday, baking coastal cities that normally benefit from the cooling influence of the Pacific Ocean.
The mercury shot up into triple digits in downtown Los Angeles and points north and south as high pressure gripped the drought-stricken state. Most other areas were in the 90s or at least the 80s...
In Ventura County and north along the Central Coast, several cities felt record temperatures including Oxnard, whose 105 degrees made for the hottest September day the city's ever had.
Even infrastructure suffered.
The Los Angeles County Metropolitan Transportation Authority imposed speed restrictions on some sections of its Metro Rail commuter lines to avoid damage to tracks and overhead power lines, which reached the upper range of heat tolerances.
The high pressure also spawned Southern California's dangerous Santa Ana winds, the extremely dry and gusty blasts typical of fall that increase the risk of fast-spreading wildfires.
...
Several parts of the state saw record-breaking heat on Sunday as temperatures ran 10 to 25 degrees above normal for this time of the year. A record 104 degrees was set in Camarillo, about 47 miles northwest of Los Angeles, beating the old record of 102 set 38 years ago.
San Francisco had a high of 98 degrees Sunday and temperatures in the Bay Area were in the 80s and 90s on Monday.
For a second straight day, the Bay Area Air Quality Management District issued a Spare the Air Alert asking residents not to drive because of smog.
North of San Francisco, crews battled a wildfire in rural Sonoma County in nearly 100-degree heat. The fire, which broke out Sunday morning near Cloverdale, spread to more than 2 square miles and forced some residents to evacuate, state fire officials said.
"With very dry fuels already in place, extreme fire behavior and rapid growth will be likely with any fire ignition," the weather service warned