Wildfires burning near Lake Tahoe grow



 United States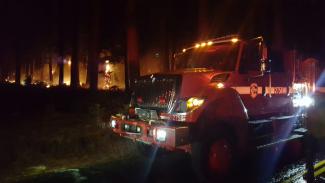 A fire burning northeast of Lake Tahoe that has destroyed almost two dozen homes has grown to nearly 3,500 acres, officials said Saturday.
The Little Valley Fire, which ignited just after 1:30 a.m. Friday in the Nevada community of Washoe Valley, was at 3,460 acres, according to the U.S. Forest Service.
The fire was 20 percent contained Saturday night and has leveled at least 22 homes.
...
About 855 firefighters continued to battle the blaze, located between Incline Village and Washoe Lake in Nevada, as the fire was pushed east pushed by high winds, officials said. Four people have suffered injuries from smoke inhalation.