California: Camp fire death toll rises to 63 with more than 600 still missing



 United States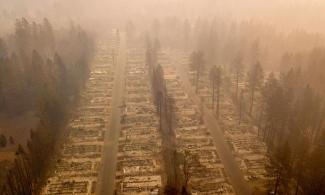 Rescue workers are searching for more than 630 people reported missing in a northern California town reduced to ashes by the deadliest wildfire in the state's history.
At least 63 people have been killed in and around Paradise by the Camp fire that erupted a week ago in the Sierra foothills 175 miles (280km) north of San Francisco. The fire is among the most lethal US wildfires since 2000.
The remains were found outdoors and in the rubble of homes and cars in the towns of Paradise, Magalia and Concow. One victim was found in a overturned charred car in Paradise.
Authorities attribute the death toll in part to the speed with which flames raced through the town of 27,000, driven by wind and fueled by desiccated scrub and trees.
Nearly 12,000 homes and buildings burned hours after the blaze erupted, the California department of forestry and fire protection (Cal Fire) said.
...
Sheriff Kory Honea on Thursday said the remains of seven victims have been located since Wednesday's tally of 56. Nearly 300 people reported missing have been found alive and the list of missing would fluctuate, he said.
...
Scientists say two seasons of devastating wildfires in California are linked to drought they say is symptomatic of climate change.
Cal Fire said 40% of the Camp fire's perimeter is contained, up from 35%, even as the blaze footprint grew 2,000 acres to 141,000 acres (57,000 hectares). The Woolsey fire is 57% contained.