California fires: rain to bring fresh misery as evacuees flee makeshift camp



 United States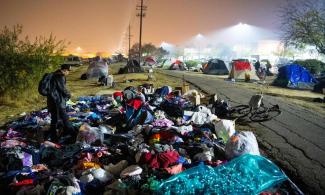 Rain is set to bring fresh misery to California this week in the wake of the state's deadliest ever wildfire, with fears of mudslides and flooding causing people to depart an impromptu tent city set up by evacuees.
Volunteers and displaced residents have started to pull out of an encampment that sprang up more than a week ago near the town of Paradise, in northern California, which has been reduced to a charred ruin by the Camp fire. On Monday, the death toll from the fire stood at 77, with 993 people still unaccounted for.
More than 50,000 people have had to flee the unexpectedly swift and fierce fire, the cause of which has yet to be established, with thousands sleeping in tents and cars at the makeshift camp next to a Walmart superstore in the town of Chico. Volunteers handed out everything from clothing to dog food but people are now being advised to relocate due to the threat of flooding.
Up to 4in (10cm) of rain is forecast to fall on the area, north of San Francisco, from Tuesday night, risking flooding of the camp, which is located at the bottom of a hill. The prospect of mudslides down hills stripped of vegetation is also causing concern in the area, as well as further south near Malibu, on the outskirts of Los Angeles, where a separate fire has caused three deaths.
...
Donald Trump toured what remains of Paradise on Saturday, promising that the federal government would "take care of the people who have been so badly hurt". But in a variety of ways, he riled many locals. The president also caused confusion by claiming that Finland manages its own forests by "raking and cleaning" them and downplayed the role that climate change has in causing forests to dry out and become more fire-prone.