Catastrophic Fire Hits Southeast Tennessee Homes and Resorts
,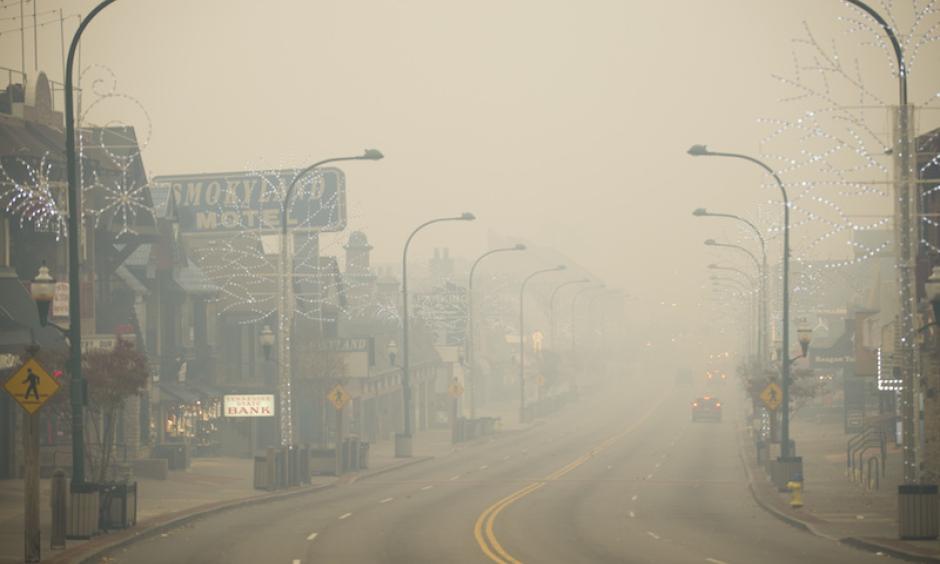 What appears to be the most damaging wildland fire to strike a Southeast U.S. community in many decades tore into the tourist mecca of Gatlinburg, Tennessee, on Monday night. The Chimney Top Fire has burned hundreds of structures in and near this much-loved city and has injured at least four people. Nearby Pigeon Forge, home of the Dollywood theme park, has also been affected by the fire, which began in the adjacent Great Smoky Mountains. At least 14,000 people were evacuated from the area, and an estimated 1000-plus people were in shelters on Tuesday morning.
...
The southern Appalachians have endured their hottest and driest autumn on record, setting the stage for dozens of wildfires across the region that culminated in Monday's blazes. As of Monday, 20 large fires across the Southeast, including 4 new ones, were affecting more than 130,000 acres, according to the National Interagency Fire Center. The Gatlinburg disaster occurred as winds gusted to more than 70 mph ahead of a strong cold front.
...
Moisture is typically plentiful across the Southeast, including Gatlinburg, which averages 56" of rain per year. Droughts here are not typically as prolonged as they are in the U.S. West. When they do strike, their impact on the lush, normally-well-watered landscape can quickly become intense. In its section on the Southeast, the U.S. National Climate Assessment noted: "The southeastern U.S. (data include Texas and Oklahoma, not Puerto Rico) leads the nation in number of wildfires, averaging 45,000 fires per year, and this number continues to increase. Increasing temperatures contribute to increased fire frequency, intensity, and size, though at some level of fire frequency, increased fire frequency would lead to decreased fire intensity."
...
Decades of fire suppression allowed species that are less fire-tolerant, such as maple and hickory, to take hold. On top of this, southern pine beetles have ravaged more than 90% of native short-leaf pines in some areas over the last several decades, leaving huge stands of dead trees. (As winter temperatures grow warmer in our greenhouse-altered climate, southern pine beetles have been thriving, making it as far north as New Jersey.)
...
Unfortunately, the Gatlinburg fire may be a harbinger of increased fire risk across the Southeast in the decades to come, as suggested by the U.S. National Climate Assessment. A 2015 study led by Renaud Barbero (University of Idaho) suggests that the number of week-long periods with very large fires over the southern and central Appalachians may double by the 2040s - 2060s as a result of climate change.