Chicago Ties Record With 9 Days of Consecutive Snow
,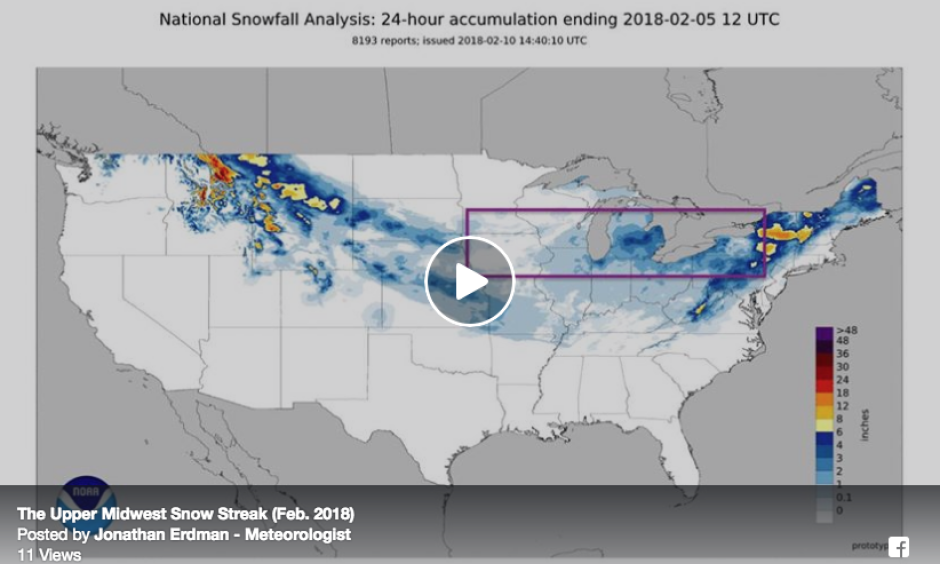 Preface
In February 2017, Chicago experienced no snow in January and February for the first time on record. In 2018, the city tied a record-long stretch of consecutive days with at least 0.1 inches of snow. Shifts from extreme to extreme are consistent with the kinds of changes expected with global warming.
Article excerpt
Chicago tied its streak of consecutive days with measurable snow Sunday, and several other Great Lakes cities either broke or approached record snow streaks as well.
Sunday marked the ninth and final day in a row with at least 0.1 inch of snowfall at O'Hare International Airport, tying a record-long stretch in Chicago from Jan. 6-14, 2009 and Jan. 29 - Feb. 6, 1902, according to the National Weather Service.
Only one of the days had heavy snowfall – 6.2 inches on Feb. 9 during Winter Storm Mateo – but this nine-day stretch produced more snowfall (18.3 inches) than had fallen in the entire season through Groundhog Day (10 inches).
It also left Chicago's O'Hare International Airport with its greatest snow depth in three years, since Winter Storm Linus dumped over 19 inches of snow just before Groundhog Day 2015.
The latest snow streaks triggered thousands of flight cancellations, including more than 200 of them Sunday.
...
Just one year ago, Chicago couldn't keep as much as an inch of snow on the ground in January or February for the first time on record.
Other Streaks
Rockford, Illinois, also picked up measurable snow over the same nine-day stretch as Chicago, topping the previous record streak of seven straight days from Jan. 1-7, 1994 and Jan. 24-30, 1994.
Des Moines, Iowa's eight-day snow streak tied for its second longest in records dating to 1884, topped only by a nine-day streak in March 1965.