Climate Change Intensifies 'Largest Wildfire in Texas History'



 Central Texas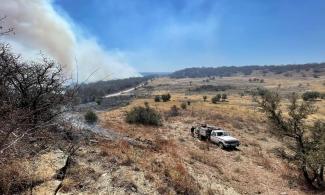 Climate Signals summary: Human-caused climate change due to the burning of fossil fuels, is leading to an increased threat of intense, large wildfires, such as the Eastland Complex fires, by expanding the warm season, and causing more frequent severe heatwaves and droughts.
---
Article excerpt:
While high winds and drought-parched grasses are the immediate causes of the wildfires, low humidity is also a significant factor. Citing a November 2021 study, NASA writes that "burned acreage from wildfires in the western U.S. doubled between the period of 1984-2000 and 2001-2018."
This conflagration can be attributed "to a significant increase in the vapour pressure deficit, a measurement of how hot and dry the atmosphere can get," said climate scientists from Department of Atmospheric and Oceanic Sciences at the University of California, Los Angeles, and from the Lawrence Livermore National Laboratory.
The scientists cited global heating as the driver behind the increasing deficits in vapour pressure, a shift which turns grasses to tinder and makes the atmosphere itself "more conducive to sustaining fire."
You can read the rest of this article here:
https://www.theenergymix.com/2022/03/23/climate-change-intensifies-largest-wildfire-in-texas-history/