Coldest Arctic Outbreak in at Least Two Decades is Expected This Week in Parts of the Midwest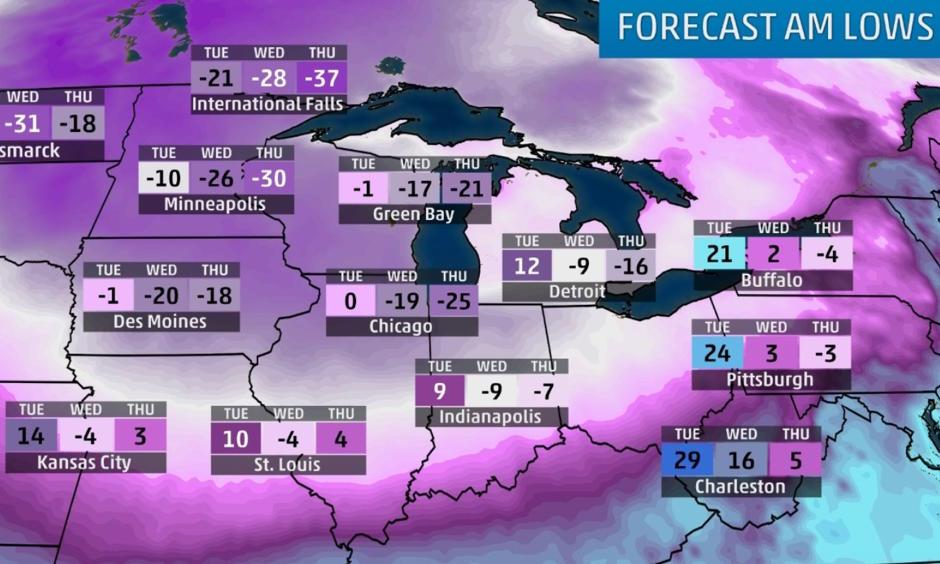 Extreme arctic cold will plunge into the Midwest this week, creating dangerously cold wind chills and likely dropping temperatures in some cities to their lowest levels in more than two decades.
The central and eastern United States have been in the grips of a much colder weather pattern in the second half of January, and conditions this week will be the worst yet.
By Wednesday and Thursday, morning lows may reach the minus 20s in the Twin Cities, with minus teens and minus 20s in Des Moines, Iowa, Chicago and Milwaukee.
Subzero-cold lows may extend through much of the Ohio Valley and into the interior Northeast by late-week. Thursday will be the coldest day along the Northeast Interstate 95 corridor with lows in the single digits from Washington D.C. to Boston.
...
A few of the potential daily record lows this week include (record-to-beat is shown):
Wednesday: Chicago (minus 15 degrees); Cleveland (minus 4 degrees); Des Moines, Iowa (minus 17 degrees); Detroit (minus 4 degrees)
Thursday: Chicago (minus 12 degrees); Cleveland (minus 4 degrees); Detroit (minus 7 degrees); Pittsburgh (minus 3 degrees)