Colorado River named the most endangered in the U.S. by conservation group



 Colorado River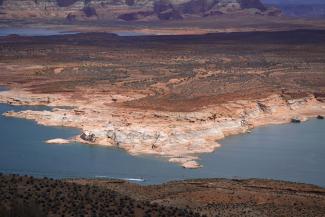 Climate Signals summary: Human-caused climate change is continuing to worsen the drought in the Western U.S., leading to an increase in water insecurity in western river basins, including the Colorado River.
---
Article excerpt:
The Colorado River is the epicenter of the nation's water and climate crisis, according to an annual report from the conservation group American Rivers that ranked the waterway the country's most endangered.
"The eyes of the world have been on the Colorado for a couple years now as the system has been quite literally crashing," said Matt Rice, the group's southwest regional director.
More than 20 years of record-breaking climate change-driven drought has brought the river and reservoirs Lake Powell and Lake Mead to record lows. Last month, Lake Powell dropped below a critical threshold of 3,525 feet for the first time — a number the states and federal government have worked to avoid to keep enough water in the reservoir for continued hydropower production.
The Colorado River and its tributaries supply drinking water to around 40 million people. More than 5 million acres of farmland use this water for irrigation, and the Colorado River basin is home for 30 Native American tribes. The river flows through nine National Parks and is essential for healthy wildlife habitat.
You can read the rest of this article here:
https://www.cpr.org/2022/04/18/colorado-river-drought-conservation-endangered/