Confirmed: 2016 the Warmest Year in History of Global Recordkeeping
,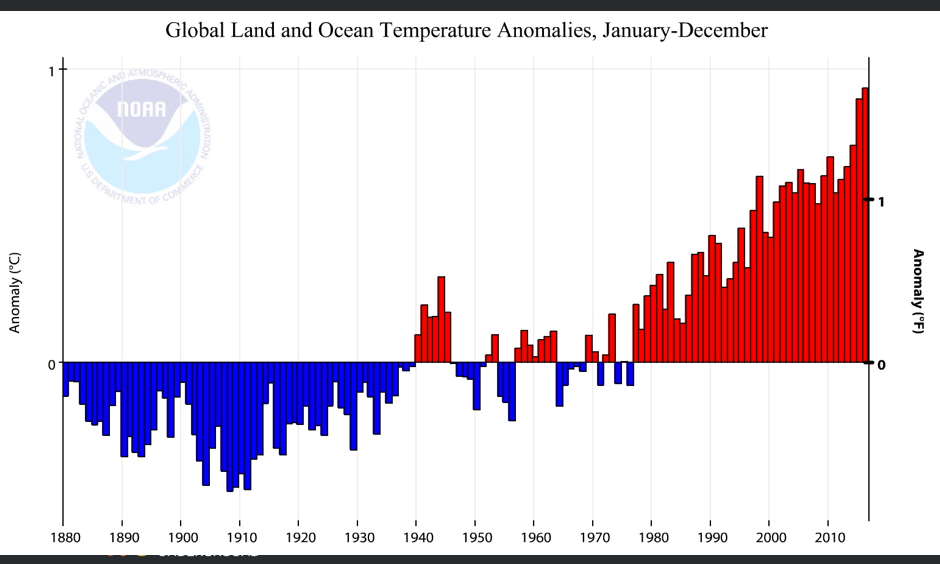 For the third year in a row, Earth has experienced the warmest surface temperatures in global data extending back to 1880.
...
The second year of a major El Niño tends to warm the global atmosphere even more than the first, as the atmosphere gradually adjusts to the ocean-surface warming. This gave 2016 a very good shot at breaking the global temperature record that was just set by 2015, which in turn beat out 2014. The absence of a strong El Niño heading into 2017 tells us that the coming year, while expected to be very warm by 20th-century standards, is unlikely to continue the remarkable three-year string of consecutive global heat records set by 2014, 2015, and 2016.

It's worth noting that only about 0.2°C of last year's departure from long-term average temperature can be explained by El Niño, especially given that the tropical Pacific transitioned to a weak La Nina by late 2016. The fact that 2016 was still the warmest year on record can mostly be attributed to the steady build-up of heat-trapping greenhouse gases due to human activities.
...
More nations set all-time highs in 2016 than in any other year
From January through December 31, 2016, a total of 22 nations or territories tied or set all-time records for their hottest temperature in recorded history. This breaks the record of eighteen all-time heat records in 2010 for the greatest number of such records set in one year. Just one nation or territory—Hong Kong—set an all-time cold temperature record in 2016. "All-time" record here refers to the warmest or coldest temperature ever reliably reported in a nation or territory.
...
If you reproduce this list of extremes, please cite Maximiliano Herrera as the primary source of the weather records. Here are 2016's all-time heat and cold records:

The Comoros: December 22, 2016, 35.6°C (96.1°F) at Hahaya Airport (tie).
French Guiana : September 27, 2016, 38.0°C (100.3°F) at Saint Laurent du Moroni.
The Marshall Islands: August 24, 2016, 35.6°C (96.1°F) at Utirik Atoll.
The Cayman Islands (United Kingdom territory) : August 21, 2016, 34.9°C (94.8°F) at Owen International Airport (tie).
The British Virgin Islands [United Kingdom territory]: July 22, 2016, 35.0°C (95.0°F] at Terrance B. Lettsome International Airport.
Iraq: July 22, 2016, 53.9°C (129.0°F) at Basrah.
Iran: July 22, 2016, 53.0°C (127.4°F) at Delhoran (tie).
Kuwait : July 21, 2016, when the mercury hit 54.0°C (129.2°F) at Mitribah.
Guernsey (United Kingdom territory): July 19, 2016, 35.0°C (95°F) at the small island of Alderney (tie).
Hong Kong Territory (China): July 9, 2016, 37.9°C (100.2°F) at Happy Valley (tie).
Niger: June 8, 2016, 49.0°C (120.2°F) at Bilma.
Palau: June 8, 2016, 34.4°C (93.9°F) at Koror AWS (tie).
India : May 19, 2016, 51.0°C (123.8°F) at Phalodi.
Maldives: April 30, 2016, 35.0°C (95.0°F) at Hanimaadhoo.
Thailand: April 28, 2016, 44.6°C (112.3°F) at Mae Hong Son.
Cambodia: April 15, 2016, 42.6°C (108.7°F) at Preah Vihea.
Burkina Faso: April 13, 2016, 47.5°C (117.5°F) at Dori.
Laos: April 12, 2016, 42.3°C (108.1°F) at Seno.
Vanuatu in the South Pacific: February 8, 2016, 36.2°C (97.2°F) at Lamap Malekula.
Tonga: February 1, 2016, 35.5°C (95.9°F) at Niuafoou.
Wallis and Futuna Territory (France): January 10, 35.8°C (96.4°F) Futuna Airport.
Botswana: January 7, 2016, 43.8°C (110.8°F) at Maun.