Dangerous, Multipronged Storm Strafing Central/Northern California
,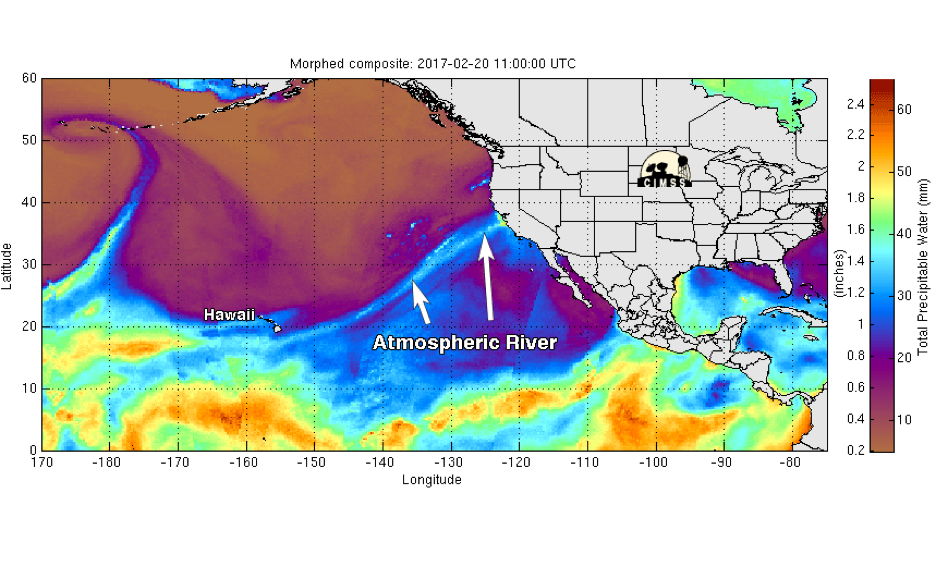 What may become known as the President's Day Storm of 2017 barreled into the San Francisco Bay area on Monday morning. The core of the storm was an atmospheric river roughly 75 to 100 miles wide, pointing a firehose of moisture toward vulnerable foothills and urban areas. With soils already sodden, the risk of flash flooding was high, and the tail end of the storm promised to bring ferocious winds into the area that could knock out power for many thousands of residents, in some cases for prolonged periods. Toward the Sierra, the storm will deliver yet another onslaught of torrential rain and several feet of mountain snow, as the region's water infrastructure groans under its fiercest assault in a number of years.
Monday's atmospheric river (AR) extends back in a fetch almost directly from Hawaii, as shown in [the image above], making it a classic "Pineapple Express." The AR was carrying at least 1.25" to 1.5" of precipitable water, or the amount of moisture in the column of air above a particular spot. That's an amount seen on average once every 5 to 10 years in the area, noted the Sacramento office of the National Weather Service. Unlike many big storms, this one won't arrive with a strong surface low; instead, a relatively weak low will be moving into Oregon on Tuesday, well north of the fairly linear AR.