Dangerous, Rapidly Intensifying Harvey Expected to be a Major Hurricane
by
Category 6 - Weather Underground
,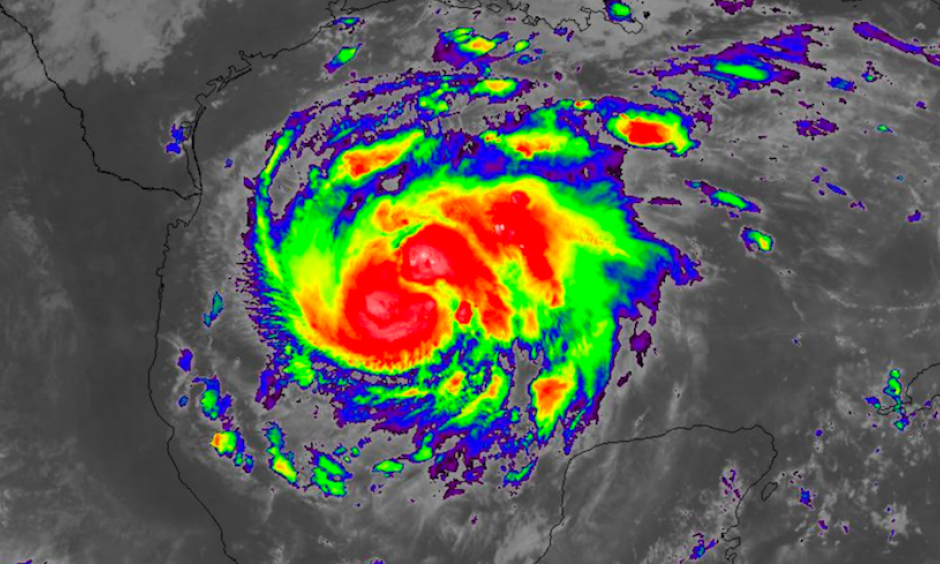 Harvey rapidly strengthening
At 6:42 am CDT Thursday, an Air Force hurricane hunter plane found that Harvey had formed a partial eyewall, with a 986 mb pressure. By 8:04 am CDT, the eye had completely closed off, and the pressure had fallen another 2 mb, to 984 mb. By 10 am CDT, the pressure had fallen another 2 mb, to 982 mb. This is the central pressure that a Category 1 hurricane typically has, but the Hurricane Hunters measured top surface winds of just 65 mph. It takes up to six hours for a tropical cyclone's winds to respond to a fall in pressure, so I expect that Harvey will be a hurricane by the 4 pm CDT Thursday advisory.
Conditions in the Gulf of Mexico on Thursday morning were very favorable for intensification. Satellite images showed that Harvey was a large storm, whose high-level cirrus clouds were already spreading over extreme southern Texas. Harvey had an intense ring of heavy thunderstorms surrounding the eye, and solid low-level spiral bands were forming. The eye was just beginning to appear on both visible and infrared imagery at 10 am CDT. High cirrus clouds streaming away from the center showed the presence of upper-level outflow to the north and east, which was ventilating the storm and allowing intensification to occur. Wind shear was light, 5 – 10 knots, which is favorable for intensification. The atmosphere had a high mid-level relative humidity of 70%, and the ocean was very warm, with sea surface temperatures (SSTs) of 30.5°C (87°F.) This was about 2°F above average for this time of year. Warm waters extended deep into the ocean, providing a large reservoir of heat for the storm to draw upon. The outer bands of Harvey are visible on Brownsville long-range radar.
...
Comparison to historical major hurricanes to hit Texas
There are several historical cases of August hurricanes undergoing rapid intensification to Category 3 status just before landfall in Texas. Hurricane Alicia of 1983 took 36 hours to intensify from a tropical storm with 70 mph winds to a Category 3 hurricane with 115 mph winds. During that time, the pressure dropped from 998 mb to 963 mb. Alicia killed 21 people and caused $1.7 billion in damage (1983 dollars.) Hurricane Celia of 1970 took twelve hours to intensify from a Category 1 hurricane with 85 mph winds to a Category 3 hurricane with 125 mph winds just before landfall. Celia hit the coast very close to where Harvey is expected to, killing 27 and causing $930 million in damage (1970 dollars.)