Deadly Cyclone Kenneth wallops Mozambique as life-threatening flooding persists



 Mozambique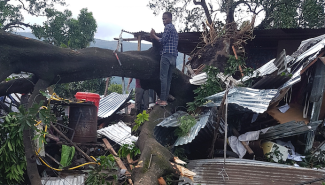 "A flooding disaster can unfold in Cabo Delgado where Kenneth slammed onshore," according to AccuWeather Senior Meteorologist Kristina Pydynowski. "Additional downpours into this weekend can push the AccuWeather Local StormMax™ to 600 mm (24 inches)."
The heavy rain can cause streams, rivers and coastal waterways to flood neighboring land and communities.
...
"Aside from storm damage, the greatest risk will immediately be from flooding due to heavy rains. Rivers within this region of Mozambique may flood, especially as at least one of the dams is already close to full capacity, preventing flood water from being retained. This will make it almost impossible to distribute aid as roads will become impassable," said Marc Nosbach, CAREMozambique's country director.