Does a Fire-Ravaged Forest Need Human Help to Recover?
Tioga Pass Rd, California
,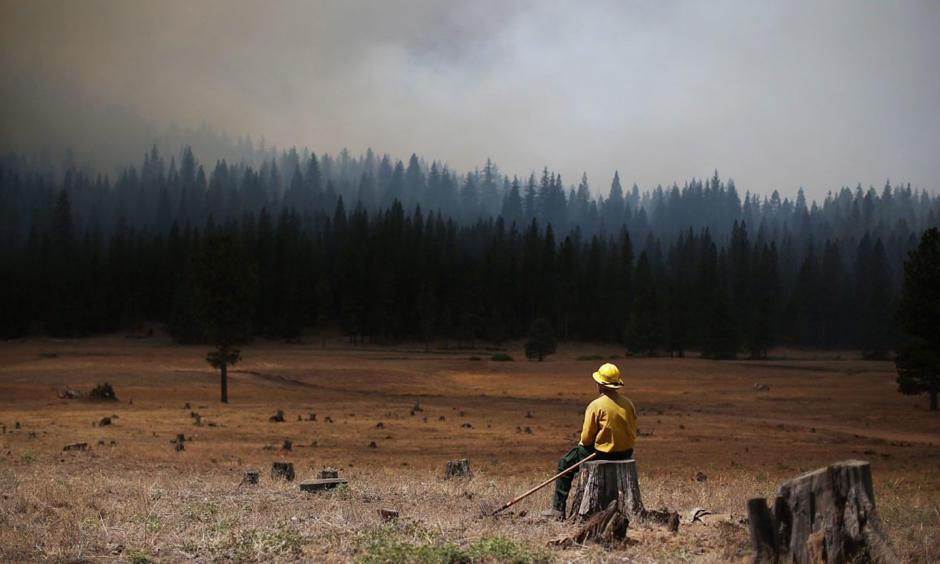 The Rim Fire has become the latest front in a long-running debate over how best to help forests regenerate after major fires, which are becoming more frequent in places like the western United States as climate change boosts temperatures and causes worsening droughts. Some scientists contend that in an era of more widespread and intense wildfires, forests now need human help to bounce back, especially when blazes sweep through the same area within a decade or two. The Rim Fire, according to U.S. Forest Service ecologist Jay Miller, "nuked" much of the landscape, necessitating a program of logging and replanting.
Federal and state agencies, along with timber harvesting interests, are making the case that clearcutting and replanting is the best way of ensuring regeneration. This will, they say, reduce the risk of future fires, remove the threat of burned trees falling on forest workers or visitors, and mitigate the impact that a big fire has on the environment and the regional economy. In 2016, the Forest Service sold $186 million of Rim Fire timber.
Leaving high-severity burns to regenerate on their own, the Forest Service says, increases the amount of fuel on the ground that could make future fires more intense. And some Forest Service studies suggest that logging causes neither a reduction in total plant cover nor an increase in the abundance of exotic species. A key factor today, according to some foresters, is that policies calling for the extinction of all fires — often instituted to protect nearby homes, infrastructure, and businesses — have upset the natural order of things. As a result, human intervention may sometimes be necessary to revive forests, logging proponents say.
A bill is now making its way through the U.S. Senate that would speed up this kind of clearcutting and weaken environmental laws that protect national forests — including burned areas — and the threatened species that dwell in them.
The Forest Service has some allies in the conservation community. Several months after the Rim Fire was extinguished, Eric Holst, a vice president of the Environmental Defense Fund, penned a blog stating that "letting nature heal itself" after a high-intensity fire is likely to result in a forest dominated by shrubs for many decades.
...
Hanson and 249 likeminded scientists argued in a 2013 letter to Congress that conflagrations such as the Rim Fire — and the snag forest it produced — have been beneficial to the ecosystem. Great gray owls are nesting on the edge of this high-intensity burn, hunting for rodents attracted to the open meadows and burned-out areas like the ones we hiked through.