As drought pushes east, more intense wildfires are sparking in new areas



 United States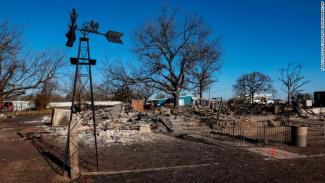 Climate Signals summary: Already this year, several large wildfires have scorched acres all across the country from Florida to Texas to Colorado - their explosive growth fueled, in part, by human-caused climate change.
---
Article excerpt:
Only a few months into 2022 and it's already a dreadful year for wildfires. More than 14,781 separate wildfires have scorched over half a million acres as of this week, according to the National Interagency Fire Center, the largest number of fires year-to-date the agency has recorded in the past decade.
But many of these recent fires haven't been igniting in California or the Pacific Northwest -- which have endured several devastating fire seasons in a row -- they've been popping up in places like Colorado and Texas, and have burned hundreds of thousands of acres in the past few weeks alone.
"The commonality that we're seeing across most fire-prone regions on Earth is an increase in the number of extreme fire weather days, and also an increase in the magnitude of the very worst severe fire weather days," [Daniel] Swain said. "And that is linked to human-caused climate change."
You can read the rest of this article here:
https://www.cnn.com/2022/03/29/weather/wildfires-texas-colorado-drought-climate/index.html