Early-season sizzler to challenge records across South, Southeast into the weekend
Houston, TX
New Orleans, LA
Oklahoma City, OK
Laredo, TX
Jackson, MS
Jacksonville, FL
Atlanta, GA
,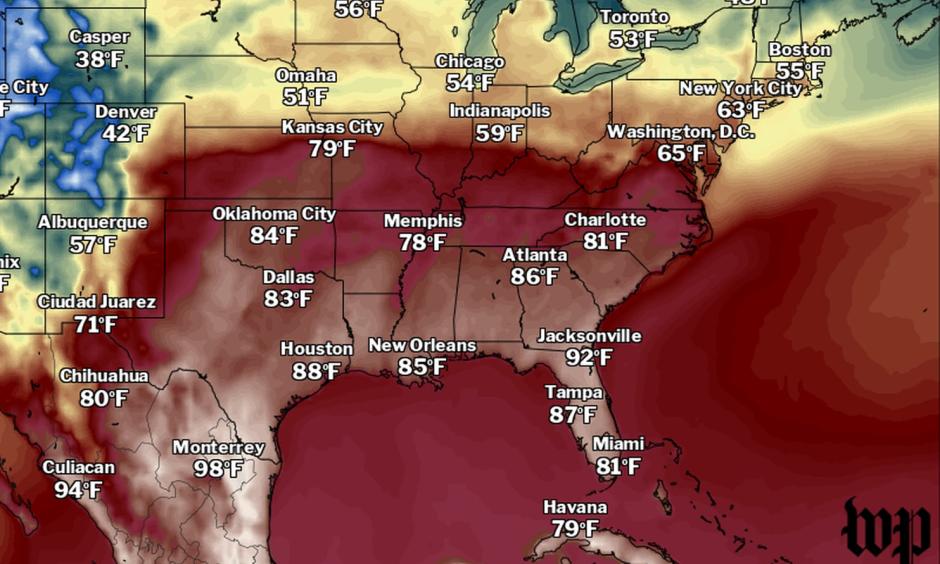 Climate Signals Summary: Climate change is increasing temperatures and leading to more heat records in every season, and causing earlier and warmer springs.
---
Article Excerpt: Is it March or May? Near-record to record warmth is en route to a large swath of the south central and southeastern United States over the next several days. Temperatures may even soar into the 90s in a few spots amid one of the warmest Marches on record. Numerous cities are likely to tie or break daily temperature records, with a few all-time March records in jeopardy as the early-season sizzler sets in.
Hot weather has already swelled over parts of Texas and the Gulf Coast in recent days. Houston hit 90 degrees on Wednesday for the first time this year and about six weeks ahead of average. New Orleans hit 89 degrees on Wednesday, breaking its previous daily record by 5 degrees, and tying the monthly record for March. New Orleans also set record highs of 88 and 86 on Monday and Tuesday.
The core of the heat on Thursday focuses in Texas and Oklahoma as a developing storm in the Rockies sweeps tropical warmth and humidity north. High temperatures as much as 25 degrees above average will balloon east on Friday, surging northeast along Interstate 40 into the Ozarks, Tennessee, and even western Ohio Valleys into Illinois and Indiana. By Saturday, that torch swallows most of the southeastern third of the country.
This bout of abnormally warm weather may be the first of many this spring. The Climate Prediction Center is anticipating near or above-average temperatures over the entire nation this spring.
...
The combination of high temperatures, low humidity and breezy southerly winds could pose fire weather concerns as well. The National Weather Service in Norman, Okla., cautioned that "elevated to near critical fire weather conditions [were] expected [Thursday] afternoon across portions of western Oklahoma and western north Texas."
...
The National Weather Service in Jackson, Miss., is forecasting a high of 90 in Jackson, which would be the earliest 90 since 1929.
In New Orleans, high temperatures in the mid-to-upper 80s will be near record levels for the fourth straight day, and is on its way to its warmest March on record.
As a dome of heat nudges the jet stream north, warmth will continue to build in the Deep South and spill east. Houston and Corpus Christi could both hit 90, but now the heat makes it all the way to the Southeast — even Atlanta could approach the upper 80s.
...
While a brief cool-down is likely into next week and the beginning of April, there are signs of returned unseasonable warmth deeper into April for the eastern and southeastern part of the country.
That pattern is likely to continue for most of spring. The Climate Prediction Center highlighted virtually the entire nation as likely to see above-average temperatures during April, May and June.
...
It's already been a toasty start to the year for much of the eastern Lower 48. According to the Southeast Regional Climate Center, many cities — including Orlando, Fort Lauderdale, Fort Myers, Raleigh, Cape Hatteras, and Pennsylvania's Harrisburg and Allentown — have seen their warmest year to date on record. The majority of other East Coast cities are in the running for a top 5 spot thus far.
As the climate continues to warm because of increasing concentrations of greenhouse gases from human activities, heat records will consistently outpace cold records as the environment rapidly shifts to a new normal.