Fire and rain: West to get more one-two extreme climate hits



 Western US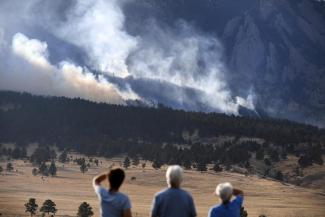 Climate Signals summary: A new study discusses the compounding effects of human-caused climate change as a new study finds that intense wildfires will be followed by severe flooding more frequently in the American west in coming years.
---
Article excerpt:
The one-two punch of nasty wildfires followed by heavy downpours, triggering flooding and mudslides, will strike the U.S. West far more often in a warming-hopped world, becoming a frequent occurrence, a new study said.
That fire-flood combination, with extreme drenchings hitting a spot that burned within a year, could increase as much as eight-fold in the Pacific Northwest, double in California and jump about 50% in Colorado by the year 2100 in a worst-case climate change scenario of increasing greenhouse gas emissions, according to a study in Friday's Science Advances.
The study said that as human-caused climate change intensifies, 90% of extreme fire events will be followed by at least three extraordinary downpours in the same location within five years.
You can read the rest of this article here:
https://apnews.com/article/climate-floods-wildfires-science-california-0b3fa035ca7b2dbf47ffc84919c0c4ac