Fire followed by rain in Santa Barbara brings relief along with anxiety



 United States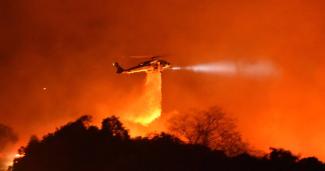 For thousands of residents in the hills northwest of Santa Barbara, the Cave fire, which started just before sunset Monday, brought back terrifying memories of 1990, when in two hours, flames ripped through the mountains and burned all the way to the sea, destroying more than 400 homes and killing a woman who tried to seek shelter from the fire in a creek behind her house.
And when they considered the forecast, they couldn't help but think too of a more recent tragedy — the deadly 2018 Montecito mudslides that came when rain pelted the fresh burn scars of the Thomas fire. So this week, when residents prayed for rain, they asked for simple showers. Not torrents, not again, not like 2018.
...
The [Cave] fire, which had burned more than 4,300 acres by Tuesday afternoon, seemed to be sprinting along Highway 154 on Monday night, said Santa Barbara County Fire Capt. Daniel Bertucelli. He was going 55 mph, he said, and the fire matched his pace.