Firefighters battle wildfires near Athens for third day
,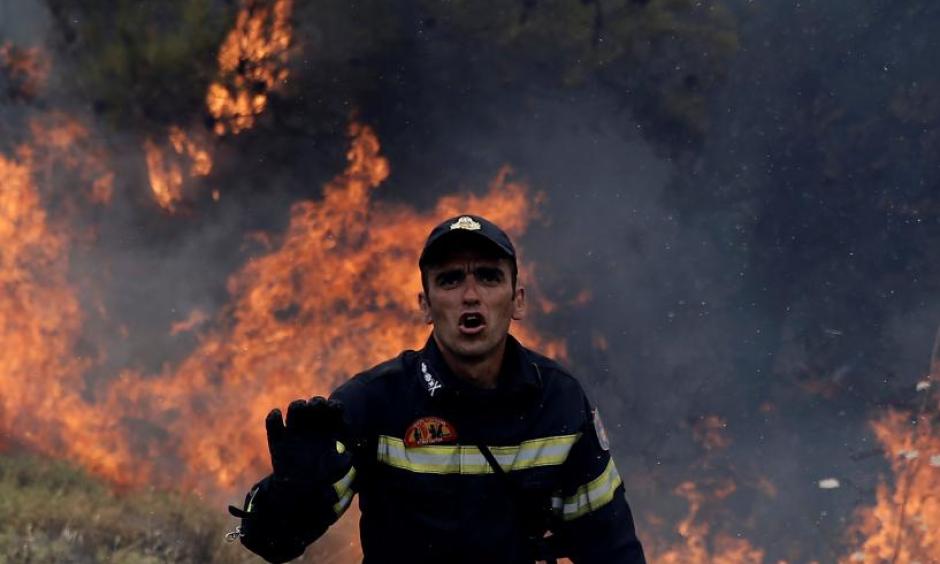 Firefighters battled a wildfire northeast of the Greek capital for a third day on Tuesday, trying to prevent a blaze that scorched thousands of hectares of pine forest from spreading further.
The fire near Athens started in Kalamos, a coastal holiday spot some 45 km (30 miles) northeast of the capital, and spread to three more towns, damaging dozens of homes. A state of emergency was declared in the area.
...
Rugged terrain dotted with small communities made the fire fighting difficult, with winds rekindling the blaze at many spots along the front. Thick billowing smoke rendered fire fighting from the air difficult.
Authorities ordered a precautionary evacuation of two summer camps and homes in the area and evacuated a monastery after flames reached its fence on Monday. Hundreds of Kalamos residents fled, heading to the beach to spend the night.
On Monday firefighters battled more than 90 forest fires across Greece, an outbreak fed by dry winds and hot weather that saw blazes burning near Athens, in the Peloponnese, and on the Ionian islands of Zakynthos and Kefalonia.
...
Late July and August often see outbreaks of forest and brush fires in Greece, where high temperatures help create tinder-box conditions.