Publication Date July 19, 2016

First Half of 2016 Blows Away Temp Records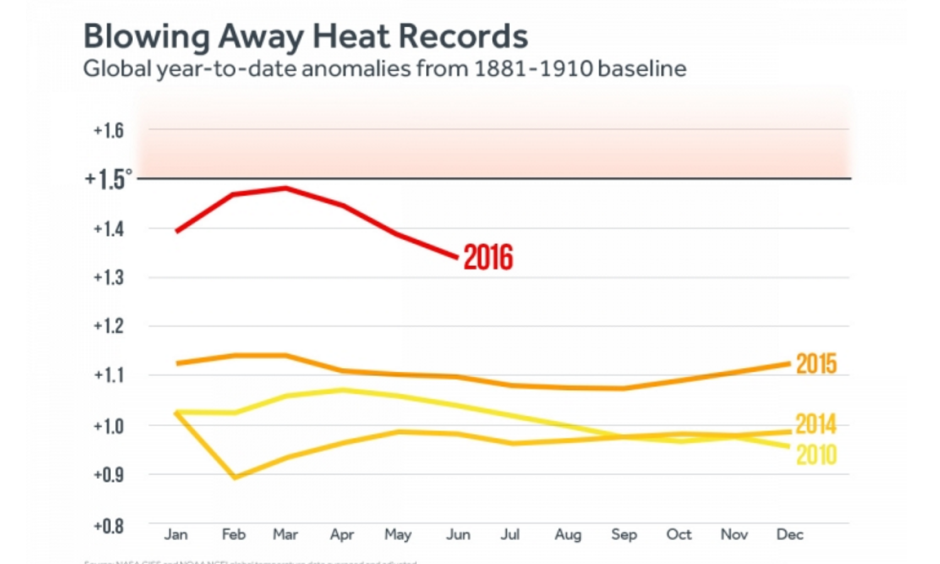 The first half of 2016 has blown away temperature records, capped off by a record hot June, once again bumping up the odds that 2016 will be the hottest year on record globally, according to data released Tuesday.
...
The significant lead that 2016 has makes the odds good that the year will end up the warmest, though there is no guarantee.
Regardless of where 2016 falls, the long-term trend of warming is clear, and it has tipped the odds in favor of record heat: Of the 15 warmest years on record, 14 have occurred in the 21st century.
"2016 will be one of the warmest on record. Whether it slips to nominally above or nominally below 2015, that may depend on some climate variability factors like the strength of the La Niña," [Deke Arndt, the head of the climate monitoring division at NOAA's National Centers for Environmental Information] said. "But it will share with 2015 the distinction of being, comfortably, the two warmest years on record and warmer, comfortably than any year we've measured in modern times"