Flood apocalypse in Eastern Siberia kills five and maroons 9,919 whose homes destroyed or damaged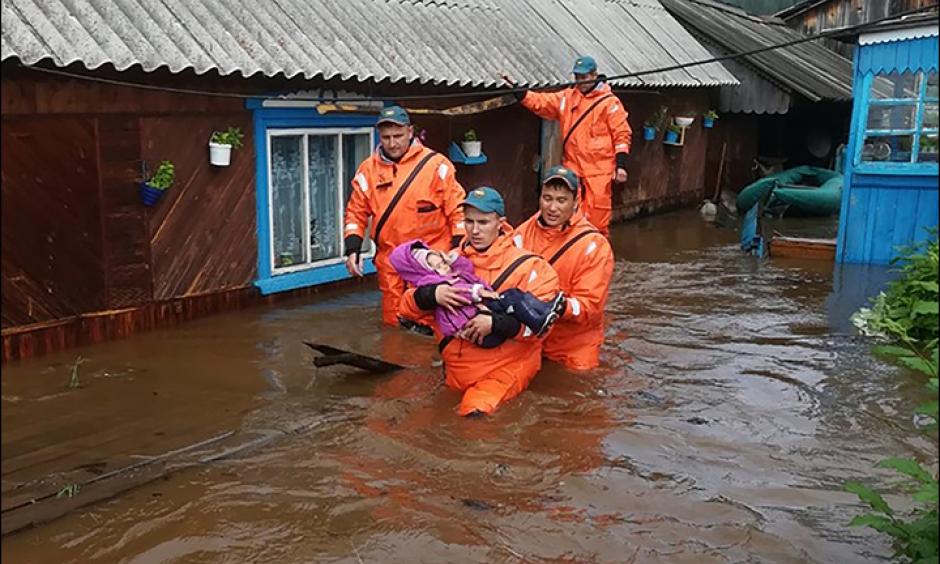 Five people were killed in the Siberian region hit by strong rains, two are missing, nearly 400 were injured with 97 were admitted to local hospitals.
...
The worst floods in the recorded history in Irkutsk region totally wiped out more than 1,200 houses, sweeping away dams and roads.
Both the Angara River - the region's main waterway - and Lake Baikal, the deepest lake in the world with 20 per cent of the planet's unfrozen freshwater, had burst their banks, said reports.
Some 50 villages of the shore of Baikal are reported 'inaccessible', while to the north the city of Bratsk is badly affected.
...
The scale of the damage is horrendous.
Officials say over 4,000 blocks of flats and private homes were so badly flooded that they will have to be rebuilt.
Almost 10,000 people lost their properties and are currently unsheltered as a major operations flies in relief supplies.
The figure includes 2,269 children.
Some 27,000 people have no electricity due to power line collapses of a switch-off as a preventive measure.
...
The flood was caused by strong rains which started at the beginning of last week.
...
Several dams burst on local rivers, with water rising over critical marks due to continuing rains.
The river water level in the town of Tulun - one of the most affected - is over 13 metres, with seven metres being the critical mark.
The town is on the Iya River, 390 kilometres northwest of Irkutsk.
The weather forecast looks grim and means the rescuers must now prepare to the worst-case scenario with worse to come, said deputy emergencies minister Alexander Chupriyan.
'We have a group of 1,000 air and land rescuers. Currently most of them are next and in the the city of Bratsk.
'We will do everything in our power to minimise the amount of grief there,' Chupriyan stressed.
...
The severe flooding continues a trend seen in recent years of natural disasters on a scale beyond those in living memory.