Florence's Devastation: Dams in Danger in North Carolina; More Evacuations Ordered in South Carolina; Death Toll Rises to 18



 United States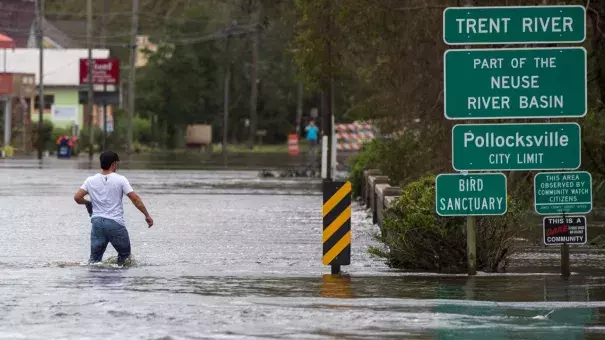 Hurricane Florence has killed at least 18 in the Carolinas during its rainy siege.
The imminent failure of the Headwaters Dam forced more evacuations.
Floodwaters cut off Wilmington, the state's eighth-largest city, from the rest of the state.
...
Train derails: A CSX train derailment in Lilesville may have been caused after flooding washed out the tracks. In a statement, CSX officials said several railcars derailed about 6 p.m. Sunday. Personnel on the train were taken to a hospital with minor injuries.
Wilmington cut off: Wilmington, the state's eighth-largest city, is cut off from the rest of North Carolina by still-rising floodwaters from Florence, officials plan to airlift food and water to a city of nearly 120,000 people as rescuers elsewhere pull inland residents from homes threatened by swollen rivers.
...
Rainfall records: Five spots have preliminarily topped North Carolina's tropical cyclone rainfall record: Swansboro (33.90 inches), Hofmann Forest (29.48 inches), Sunny Point (27.44 inches), Nature Conservancy (27.12 inches) and Newport/Morehead City (25.20 inches). The previous record was 24.06 inches from Hurricane Floyd in 1999.
Record river flooding:
N.E. Cape Fear River at Chinquapin: This location set a new record flood level on Sunday, topping the previous record of 23.5 feet from Hurricane Floyd in 1999. "Devastating flooding" occurs across the county once the river reaches 23 feet, according to the National Weather Service. The river gauge in this spot is no longer working, but serious flooding should continue this week.
Trent River at Trenton: A new record crest was set on Sunday, surpassing Hurricane Floyd's flood level of 28.42 feet. The entire town of Trenton is flooded at this level. Record flooding continued as of Monday morning.
Little River at Manchester: Record flooding is ongoing, topping Hurricane Matthew's previous record flood level of 32.19 feet.
...
Toxic threat: As rivers swelled, state regulators and environmental groups were monitoring the threat from gigantic hog and poultry farms located in low-lying, flood-prone areas.