Florence's Flood Threat Expands Inland by Bob Henson



 United States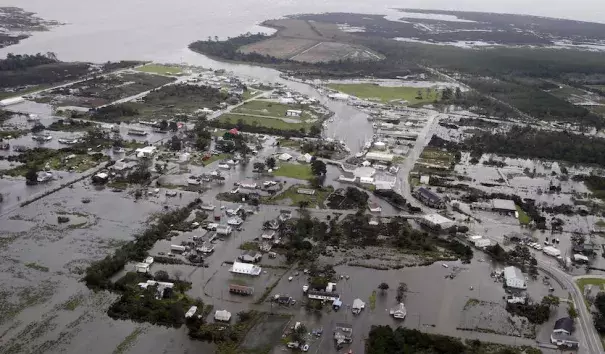 The mammoth amounts of rain observed in southern North Carolina are virtually certain to eclipse anything measured in an East Coast tropical cyclone north of Florida. Such totals are typically calculated through a blend of radar, rain-gauge, and satellite data. Automated rain gauges can run "hot" during big storms with high wind, though. Human-observed amounts are invaluable in a case like this, but there weren't a lot of observers scattered across the hardest-hit areas. As of Sunday morning, a trained CoCoRaHS volunteer 1.4 miles north of Swansboro, NC, had measured 33.90" of rain during Florence.
...
Florence's rainfall pattern has ended up bearing many of the hallmarks of Hurricane Harvey. At first it appeared Florence would deliver a one-two punch similar to Harvey, with wind-driven chaos at landfall followed by massive rains. But as opposed to Harvey's Category 4 landfall in Texas, the first punch from Florence was less intense than expected, as the storm weakened to Category 1 before making landfall at 7:15 am Friday near Wrightsville Beach.
Florence's second punch is much more in line with Harvey's. Both hurricanes moved at a snail's pace amid weak steering currents while weakening to tropical storm strength just inland. Moreover, both Florence and Harvey were positioned near concave southwest-to-northeast-oriented coastlines, which allowed the eastern swaths of the circulations to bring massive amounts of moisture northward from across very warm bodies of water (with well-above-average sea surface temperatures in both cases) onto flood-vulnerable coastal plains. When all is said and done, the large swath of North Carolina with enormous rainfall amounts is going to bear more than a passing resemblance to Harvey's zone of incredible rainfall.
...
Economic damage will fall well short of Harvey levels, given that Florence has not struck a city the size of Houston. Also, as shown in figures 3 and 4 above, Florence's shield of rainfall amounts over 20" and 30" will likely end up covering less territory than Harvey's.