Last updated March 31, 2020

Florida Wildfire Threat and Drought Increasing From a Record Hot, Dry March



 United States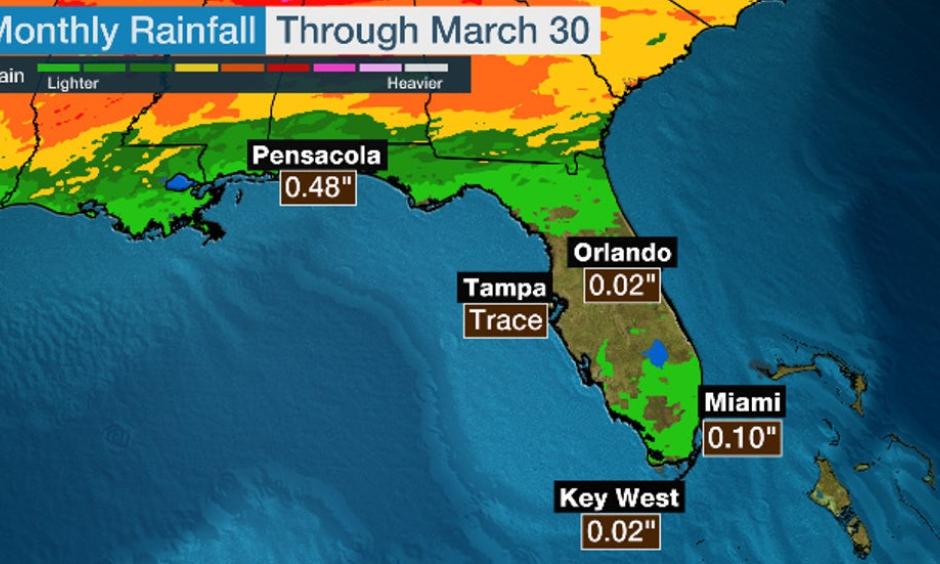 Climate Signals Summary: Climate change is increasing temperatures in all season, leading to earlier and warmer springs, and these hot temperatures can increase drought risk.
---
Article Excerpt: Florida is searing through what could be a record dry and hot March, and that combination is raising the threat of wildfires and drought heading into the heart of the state's dry season.
If you're not at least a part-time Florida resident, you may not know the state even has a dry season. From late October through early May, the state typically doesn't receive the type of daily downpours that have soaked many a summer afternoon at the beach or theme parks.
Even though March is in the heart of this drier time of the year, parts of Florida are threatening records with virtually no rain all month.
...
In March, high pressure has been persistent and strong near the Gulf Coast and Florida, steering frontal systems generally north of the Sunshine State and suppressing rain.
It has also produced summerlike heat.
According to the Southeast Regional Climate Center, Daytona Beach, Orlando and Pensacola were each on pace for their hottest March on record.
Jacksonville crushed its March all-time record high on Saturday by soaring to 94 degrees. Fort Myers' nine days of 90-degree-plus heat more than doubled its previous March record from 1949.
...
This persistently dry, hot pattern has dried out soil and vegetation.
This typically happens in spring, but the extreme lack of March rain and blistering heat raised the fire danger much higher, particularly south of Interstate 4. This is illustrated by one index used by fire-weather forecasters known as the Keetch-Byram drought index (KBDI).
As of Tuesday, 87 wildfires were active across the state and had burned just over 2,000 acres, according to the Florida Division of Emergency Management.
One wildfire in Bay County northeast of Panama City charred over 100 acres last weekend. Compounding the wildfire danger in the Florida Panhandle was the 2.8 million acres of damaged or downed trees from Hurricane Michael, providing fuel and making access to existing fires more difficult, according to the Florida Forest Service.