Goliath: The Deadliest U.S. Storm System of 2015
Pulaski County, MO
Patoka, IL
Garland, TX
Carter, OK
Dover, AR
Hwy 65 NE, Fridley, MN
Chaves County, NM
,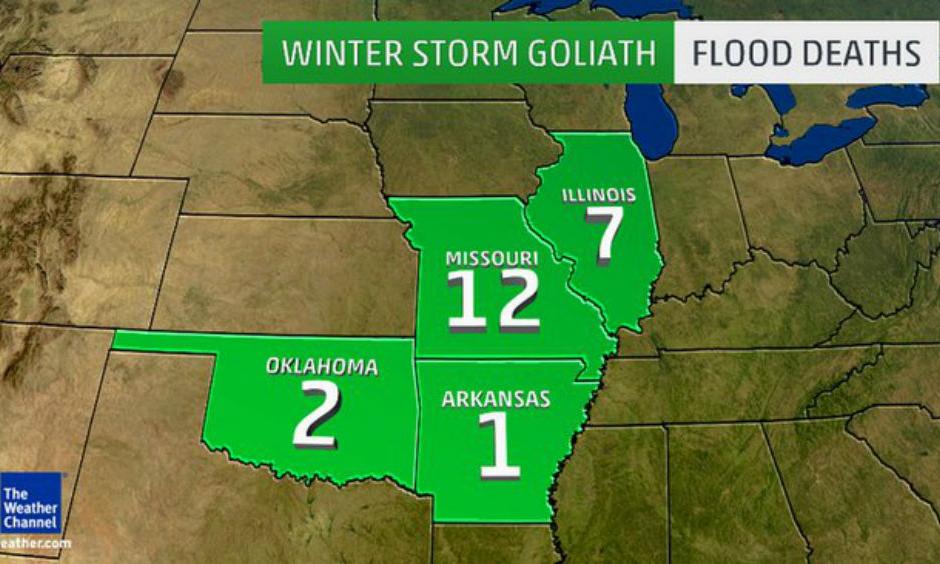 Winter Storm Goliath, the seventh named storm of the 2015-2016 season, is officially the deadliest storm system of the year in the United States.
Between the tornadoes in Texas, flooding in the Midwest and blizzard conditions in the Southern Plains, Midwest and Northeast, Goliath's impacts have taken 52 lives across the country.
"Winter Storm Goliath lasted for days, affected a large geographic area during a major holiday, and brought some exceptionally intense weather phenomena," said senior meteorologist Nick Wiltgen. "There was a violent tornado; record rainfall leading to major flooding; and an epic blizzard. While several deaths occurred outside those most extreme parts of Goliath, those factors certainly didn't help"