Hang On, Northeast. In Some Parts, Spring Has Already Sprung.
,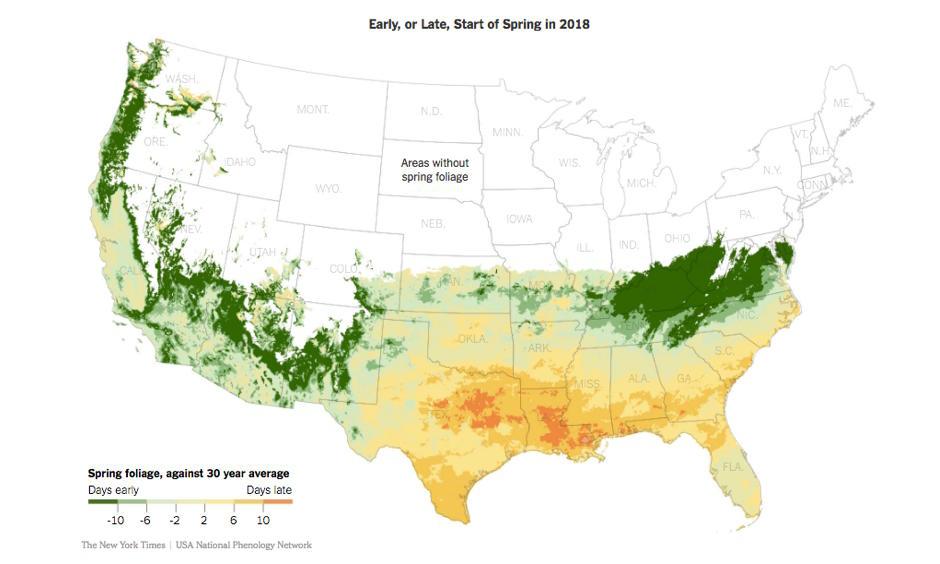 Much of Arizona, California and coastal areas of Oregon and Washington show an earlier "first leaf," the appearance of greenery on the earliest budding plants and shrubs, compared to the 1981-2010 average.
First leaf was also early in much of the Ohio Valley, across the Blue Ridge Mountains and into Virginia. But it was delayed by up to a week or more along the Gulf Coast, according to data from the USA National Phenology Network, a consortium of researchers, educators and others that tracks seasonal markers in nature.
...
The network uses temperature data, observed since Jan. 1 and forecast six days ahead, with a computer model that estimates heat buildup since the beginning of the year. Heat is used "because in most of the country that's what really matters to plants to get them going," said Theresa Crimmins, assistant director of the organization.
...
Based on a 30-year average, first leaf in the continental United States normally starts in the southern tip of Florida around the beginning of the second week of January, followed by South Texas about a week later. It usually reaches New York in early April. Parts of the high Rockies in Colorado, Wyoming, Utah and Montana are the last to show spring growth, at the end of May.
In California and much of the West, the first half of this winter was remarkably warm. Temperatures in many Southern California cities broke records in January, with readings on some days more than 20 degrees above average highs.
The warm western weather was caused in part by changes in the jet stream that also brought Arctic air to the Northeast, across the Midwest and deep into the South. Gulf Coast states saw temperatures plummet in early January and again in February, contributing to the delayed greening in the region.
Some studies have suggested that climate change, specifically loss of Arctic sea ice as that region warms relatively rapidly, may be contributing to these jet stream changes.