Hellacious Great Lakes Windstorm Fells Trees, Knocks Out Power to More than 1 Million
,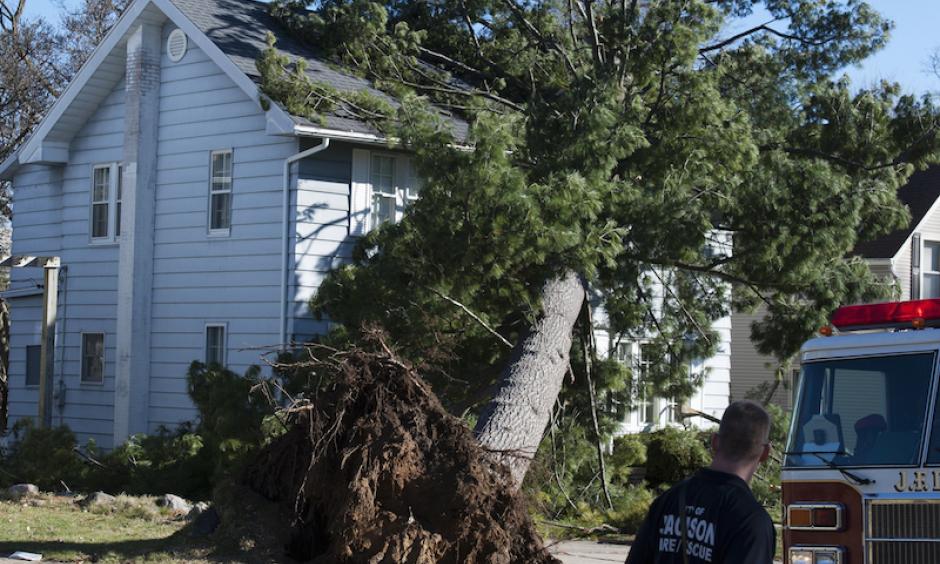 Under brilliant blue skies, an onslaught of high wind swept across the Great Lakes region on Wednesday, causing damage and disruption on par with a major winter storm or a severe thunderstorm complex. About 1 million customers lost power in Michigan alone, and more than 800,000 of those remained without electricity on Thursday morning. More than 100,000 others were affected in parts of Indiana, Ohio, Pennsylvania, and New York. It's been the largest weather-related outage in the history of DTE Energy, which serves southeast Michigan. Countless huge trees were topped across the region.
Widespread high winds are not uncommon across the Great Lakes in late winter and early spring, as the typical midlatitude storm track edges north toward the region. In this case, the unusually mild winter appears to have stoked the destruction. Most of the affected areas just had their warmest or second-warmest February on record. DTE Energy noted that the ground was softer than usual for this time of year. In addition, the soil was saturated after recent rains in southeast Michigan, said DTE. Trees were thus easier to topple than they otherwise would have been, and these falling trees played a big role in bringing down power lines.
Chicago, IL (O'Hare): 58 mph
Gary, IN: 63 mph
Saginaw, MI: 68 mph
Detroit Metro Airport: 68 mph
Grand Rapids, MI: 64 mph
Toledo, OH: 62 mph
Cleveland, OH: 61 mph
Youngstown, OH: 70 mph
Batavia, NY (5 miles east): 76 mph
Rochester, NY: 81 mph

The 81-mph gust in Rochester was the city's second strongest on record, beaten only by the 89-mph gust recorded during a major thunderstorm/derecho event on Labor Day (Sept. 6), 1998.
...
A 2014 study by Climate Central found that major U.S. power outages (those affecting more than 50,000 customers) increased tenfold between 1984 and 2012. Even after adjusting for improvements in outage reporting, weather-related outages increased dramatically across the period. At the same time, there was no trend in the number of outages unrelated to weather. The study found that Michigan experienced 71 major weather-related outages from 2003 to 2012—the most recorded in any state—with Ohio placing third and Pennsylvania fourth.

"Climate change is a threat multiplier," the report noted. Even if there is no direct link between climate change and the type of midlatitude storm that drove Wednesday's high winds, the warm soils noted above appear to have facilitated the damage to trees and power lines. And as we discussed in our post on Wednesday, there is strong evidence that late-winter U.S. warmth over recent decades is an outgrowth of human-induced climate change.