Here's What to Know About Harvey's Storm Surge and Widespread Flood Threat



 United States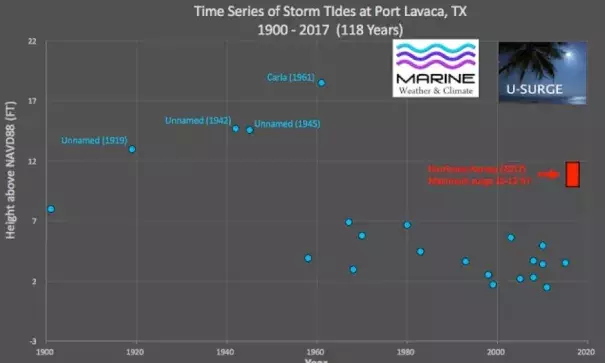 Hurricane Harvey made landfall near Rockport, Texas, as a Category 4 hurricane yesterday evening. This blog post provides some insights on Harvey's storm surge and widespread flood threat.
Highest Surge
Harvey's highest storm surge occurred east of Rockport.
...
A NOAA Tides and Currents gauge at Port Lavaca, Texas, reported an observed storm tide level of 7.0 feet above Mean Sea Level (MSL) at 3:48AM Central Time. Unreported storm tides in this region likely reached as high as reached 10-12 feet.
Port Lavaca
Harvey has generated the highest storm surge at Port Lavaca since Hurricane Carla (1961).