High-voltage power line broke near origin of massive Northern California fire that forced thousands of evacuations
Geyserville, CA
Santa Clarita, CA
San Fernando Valley, CA
Los Angeles County, CA
San Bernardino, CA
,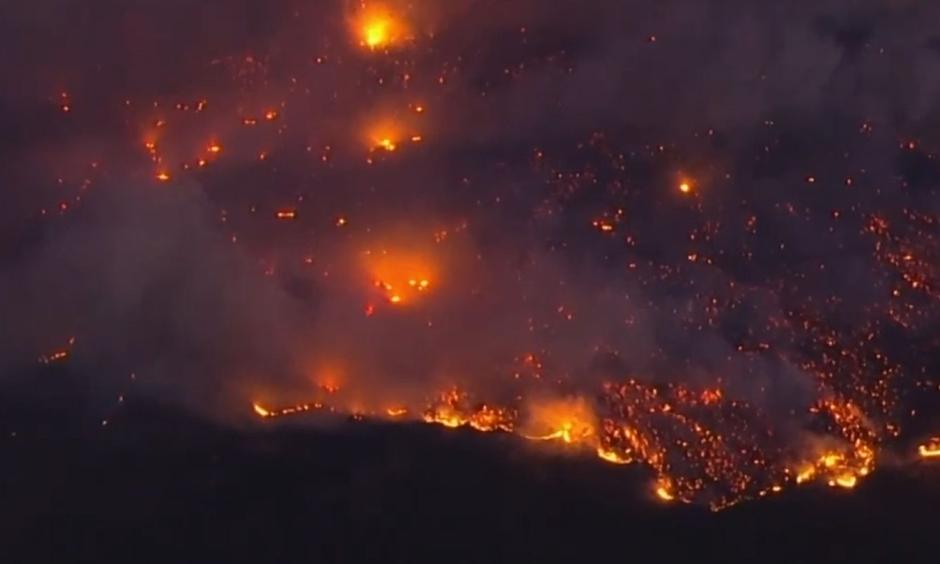 A fast-moving wildfire, spurred by powerful winds, continued to burn through Northern California on Friday and forced thousands of people to evacuate parts of Sonoma County — the rural wine country 75 miles north of San Francisco that is still recovering from a deadly 2017 blaze.
Pacific Gas & Electric, the state's largest utility, told state regulators that a jumper on one of its transmission towers broke close to where officials say the Kincade Fire started, near Geyserville.
...
The Kincade Fire spread rapidly after it sparked late Wednesday night. More than 16,000 acres were charred through Thursday night. At one point, it was growing at a rate of 30 football fields per minute...
...
Meanwhile, 400 miles south, the rapidly expanding Tick Fire burned through Santa Clarita Valley and jumped a highway early Friday morning, triggering mandatory evacuations. The Los Angeles Unified School District announced that all schools in the San Fernando Valley will be closed on Friday "due to air-quality and safety concerns from the fires."
...
"It's more than just climate change, and it is climate change, but it's more than that," [Governor Gavin] Newsom said. "As it relates to PG&E, it's about dog-eat-dog capitalism meeting climate change, it's about corporate greed meeting climate change, it's about decades of mismanagement."
...
Meanwhile, in Southern California, an "extremely critical" fire risk was predicted, with strong offshore winds, known there as Santa Ana winds, gusting up to 65 mph in parts of Ventura and Los Angeles counties through Friday.
"The fuels and vegetation are critically dry. The expected weather will create an environment ripe for large and dangerous fire growth, especially Thursday and Friday," the NWS forecast office in Los Angeles wrote.
True to the forecast, the Tick Fire sprung up in Los Angeles County on Thursday afternoon and continued to grow quickly — and totally uncontained — into the evening...