Hotter, Drier, Hungrier: How Global Warming Punishes the World's Poorest



 Kenya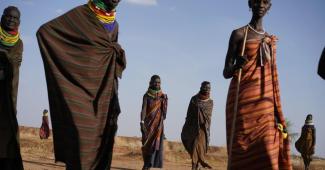 These barren plains of sand and stone have always known lean times: times when the rivers run dry and the cows wither day by day, until their bones are scattered under the acacia trees. But the lean times have always been followed by normal times, when it rains enough to rebuild herds, repay debts, give milk to the children and eat meat a few times each week.
Times are changing, though. Northern Kenya — like its arid neighbors in the Horn of Africa, where Secretary of State Rex W. Tillerson paid a visit last week, including a stop in Nairobi — has become measurably drier and hotter, and scientists are finding the fingerprints of global warming. According to recent research, the region dried faster in the 20th century than at any time over the last 2,000 years. Four severe droughts have walloped the area in the last two decades, a rapid succession that has pushed millions of the world's poorest to the edge of survival.
Amid this new normal, a people long hounded by poverty and strife has found itself on the frontline of a new crisis: climate change. More than 650,000 children under age 5 across vast stretches of Kenya, Somalia and Ethiopia are severely malnourished. The risk of famine stalks people in all three countries; at least 12 million people rely on food aid, according to the United Nations.
...
When Gideon Galu, a Kenyan meteorologist with the Famine Early Warning Systems Network, or FewsNet, looks at 30 years of weather data, he doesn't see doom for his country's herders and farmers. He sees a need to radically, urgently adapt to the new normal: grow fodder for the lean times, build reservoirs to store water, switch to crops that do well in Kenya's soil, and not just maize, the staple.
Rainfall is already erratic. Now, he says, it's getting significantly drier and hotter. The forecast for the next rains aren't good. "These people live on the edge," he said. "Any tilt to the poor rains, and they're done."
His colleague at FewsNet, Chris Funk, a climatologist at the University of California, Santa Barbara, has linked recent drought to the long-term warming of the western Pacific Ocean as well as higher land temperatures in East Africa, both products of human-induced climate change. Global warming, he concluded, seems to produce more severe weather disruptions known as El Niños and La Niñas, leading to "protracted drought and food insecurity."
Jessica Tierney, a paleoclimatologist at the University of Arizona, took the longer view. By analyzing marine sediments, she and her colleagues came to the conclusion that the region is drying faster now than at any time in two millenniums and that the trend may be linked to human activity. That rapid drying in the Horn of Africa, she wrote, is "synchronous with recent global and regional warming."