Houston Storm of April 2016
,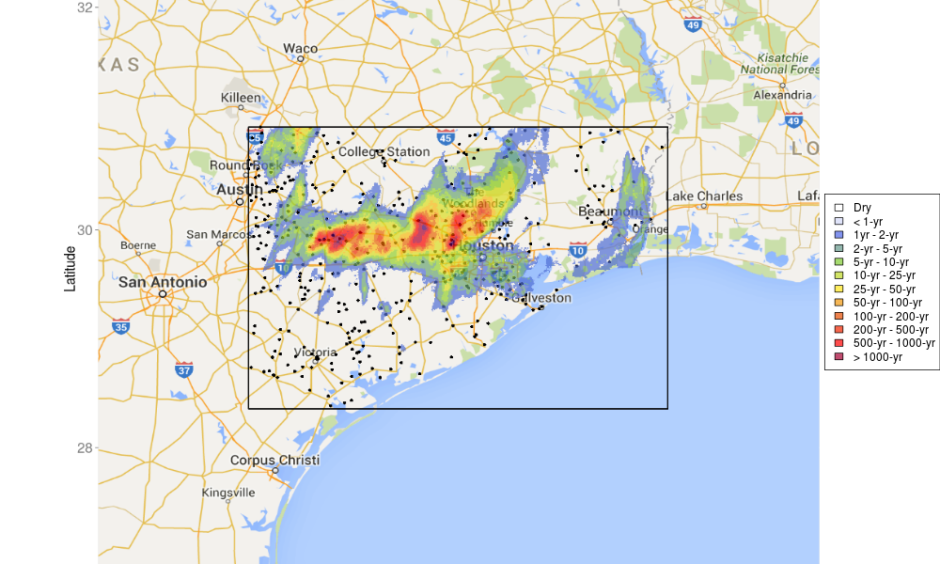 There are multiple locations west of Houston that had ARI values of over 1000 years; meaning the frequency of a storm of this magnitude in a 6-hour period in this location has less than a 0.1% chance of occurring in any given year. From a frequency perspective, this rain event proved to be a very rare case.
...
Over 17 inches of rain in less than 48 hours is an incredible amount of precipitation in a short period of time. A recent report from the Houston/Galveston National Weather Service outlined several new records from this event:
"…APRIL 2016 IS NOW THE WETTEST APRIL ON RECORD FOR THE CITY OF HOUSTON (KIAH). THIS
TOTAL WILL LIKELY GROW BY THE END OF THE MONTH. THE RAINFALL ON THE 18TH WAS ALSO
THE SECOND WETTEST DAY ON RECORD FOR THE CITY…TRAILING ONLY THE 10.34 INCHES OF
RAIN THAT FELL ON JUNE 26TH 1989. THE CITY OF KATY HAS ALSO ESTABLISHED A NEW
MONTHLY RAINFALL RECORD BESTING THE PREVIOUS RECORD OF 12.22 INCHES ESTABLISHED
DURING APRIL 2009. SUGAR LAND ALSO SET A NEW MONTHLY RAINFALL RECORD BEATING LAST
YEARS RAINFALL RECORD OF 9.76 INCHES"