Over 100 Inches of Rain Have Soaked Parts of the South Since Spring 2015



 United States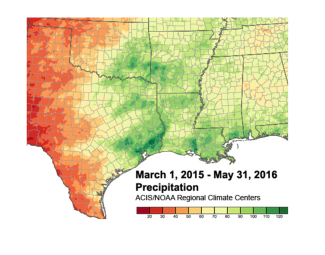 According to NOAA's ACIS database, 50 weather observing stations in Texas, Oklahoma, Arkansas, Louisiana, Mississippi, southern Alabama and the Florida Panhandle have picked up at least 100 inches of rain from March 1, 2015 through May 31, 2016.
Of those, two locations just east of Houston have picked up over 10 feet of rain in 15 months.
Liberty, Texas: 123.99 inches
Baytown, Texas: 122.79 inches
Among some of the other cities that have passed the century mark of rainfall since March 2015 include:
Murfreesboro, Arkansas: 104.22 inches
Gainesville, Texas (cooperative observer): 103.68 inches
Mobile, Alabama: 103.48 inches
Atoka, Oklahoma: 103.20 inches
Baton Rouge (Sherwood cooperative observer): 102.44 inches
Mary Esther, Florida: 100.14 inches
But doesn't the Deep South and Gulf Coast typically see heavy rainfall?
Yes, but in some areas, this is record-shattering.
According to the ACIS database, this March 2015 - May 2016 period is the wettest 15-month period in records dating to 1903 in Liberty, Texas.
Over that time, the southeast Texas town measured over four feet more rain than average, a staggering surplus of 49.38 inches