16 Killed, 1 Missing in Plains Flooding; Fort Hood Soldiers Identified



 United States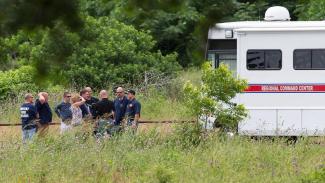 Sixteen people have died and at least three more are missing as the Plains states continue to deal with flooding brought on by severe storms that repeatedly pounded the region last week. Rivers in the region are cresting at historic highs, prompting numerous evacuations and water rescues.
Nine soldiers on an army truck died after the vehicle overturned at the Owl Creek Tactical low-water crossing near Lake Belton Thursday, according to a Fort Hood press release. Flooding covered roads and highways throughout the region and heavy rain contributed to the flooding in the area.
"It was a situation where the rain had come and the water was rising quickly," post spokesman Christopher Haug told CNN. "They regularly pass through these weather conditions like this. This was a tactical vehicle, and at the time they were in proper place. Just an unfortunate accident that occurred quickly"