Hurricane Florence charges toward Carolinas with 'potential for unbelievable damage'



 United States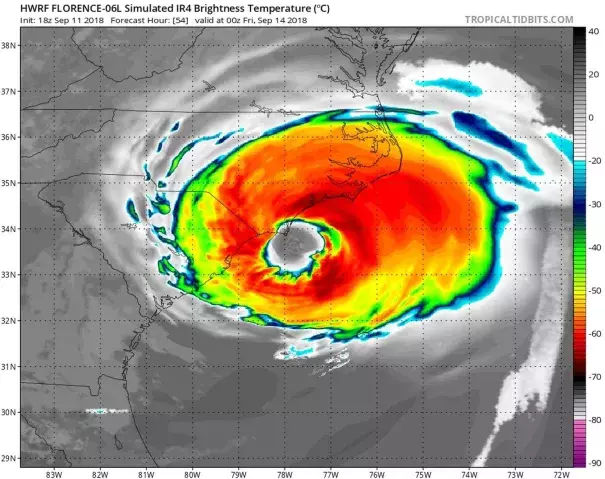 "This will likely be the storm of a lifetime for portions of the Carolina coast," the National Weather Service in Wilmington, N.C., wrote Tuesday, "and that's saying a lot given the impacts we've seen from hurricanes Diana, Hugo, Fran, Bonnie, Floyd, and Matthew."
Forecasts project the center of Florence to make landfall around the South and North Carolina border on Friday as a Category 3 or 4 hurricane.
...
The National Hurricane Center is warning of a triple threat in the Carolinas:
A "life-threatening storm surge" at the coast — a tsunami-like rise in ocean water over normally dry land
"Life-threatening freshwater flooding from a prolonged and exceptionally heavy rainfall event" from the coast to interior sections
"Damaging hurricane-force winds" at the coast and some distance inland
Like Hurricane Harvey, which stalled over Texas in 2017, Florence could linger over the Southeast for several days after landfall, unloading 15 to 25 inches of rain and isolated amounts of up to 40 inches.
Enough rain could fall to break North Carolina's record for a tropical storm — 24 inches — set near Wilmington during Hurricane Floyd in 1999, said Greg Carbin, chief of forecast operations at the Weather Service's national prediction center.
...
The storm's zone of hurricane-force winds expanded Tuesday, extending 70 miles from the center, while tropical-storm-force winds extend 175 miles outward. The storm's cloud field is about the size of four Ohios.
Within the northeast section of the storm, the Hurricane Center reported wave heights up to 83 feet Wednesday morning.