Hurricane Florence Expected to Rapidly Intensify; Serious Rainfall Threat for U.S. East Coast



 Atlantic Ocean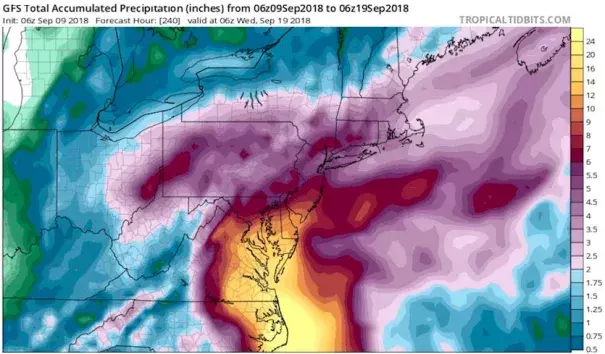 Florence is likely to make landfall on Thursday evening or Friday morning on the Southeast U.S. East Coast, or remain just offshore. The odds have increased that Florence will stall on Friday and meander near or over the coast for several days, making the hurricane a huge rainfall and coastal flooding threat.
...
Florence's environment has grown much more conducive for intensification, so much so that over the past day, NHC has made their most aggressive rapid intensification forecasts since at least 1998 for an Atlantic storm, according to an analysis by Sam Lillo.
...
Florence's power and expanding size are generating swells that were affecting Bermuda on Sunday, with waves of 3 - 5 feet in the outside waters. These waves are predicted to ipeak at 5 – 15 feet for Tuesday and Wednesday for Bermuda. There are no watches for Bermuda at this time, and the island is well north of Florence's cone of uncertainty.
Large swells from Florence will begin reaching portions of the U.S. East Coast by Sunday night, and also propagate to north and northeastward-facing coasts of the Lesser Antilles, Puerto Rico, Hispañola, the Turks and Caicos and the Bahamas into this weekend. These swells will produce life-threatening surf and rip current conditions at beaches.
...
The models are increasingly on board with a scenario where the trough of low pressure that was expected to turn the hurricane to the north late this week will be too weak to do so, as a strong ridge of high pressure builds over the Mid-Atlantic. This "blocking ridge" would block Florence's forward progress. Florence might then stall and wander near or over the coast for as many as six days, becoming the "Harvey of the East Coast", dumping prodigious amounts of rain. The analogue would be especially strong if Florence slams inland as a major hurricane with a first round of impacts—as did Harvey near Rockport, Texas—and then stalls to produce a multiday flood disaster, as Harvey ended up doing in southeast TX.
...
[F]or the period 1962–2012, rainfall was the culprit behind 27% of all tropical cyclones fatalities in the U.S. from 1963 to 2012.