Hurricane Harvey: Storm Slams Southern Texas as Residents Flee



 United States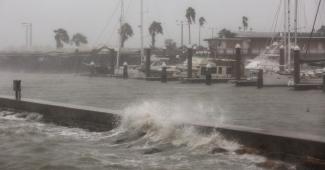 Hurricane Harvey, powered by the Gulf of Mexico's warm waters, made landfall as a Category 4 hurricane at about 9:45 p.m. Friday, earlier than expected. It came ashore just northeast of Corpus Christi, Tex., packing 130 m.p.h. winds.
While the extent of the devastation was not yet known, emergency officials reported heavy building damage in Port Aransas and in Rockport on Saturday, with shredded trees and blown-off roofs. At least 250,000 customers were without power.
The storm is expected to maintain tropical storm strength for at least four days, bringing heavy rains and flooding.
...
The storm remained a hurricane well after landfall, and conditions, including tornado warnings, made it difficult for the authorities to begin even preliminary damage assessments.
More than 250,000 customers were without electricity early Saturday, a figure that was likely to increase. Corpus Christi urged people who were still in the city to boil water.
Images and videos on social media showed substantial damage to buildings, including roofs and walls pulled away. Power lines were toppled, and phone service was down.
Early rainfall totals were staggering. The National Hurricane Center said that an automated rain gauge near Victoria, a city of about 68,000 in the path of the storm, had recorded more than 16 inches in 24 hours.